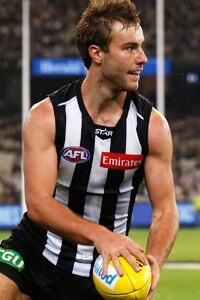 Tim Broomhead's career-best performance against Greater Western Sydney has been rewarded with an AFL Rising Star nomination.

Broomhead, 21, collected 25 disposals, took the ball inside 50 and laid three tackles in his side's 42-point win over the Giants.

It was by far the most complete of his 14 senior appearances to date, for he has only won 20 or more disposals on four occasions and evenly split his contested and uncontested possessions (13 of each).

"I just wanted to play a decent game and try and consolidate my spot in the team, so it was nice to play a reasonable game," Broomhead told Collingwood Media.

"I played a bit more on the wing this week. I've been more of a half forward but I was up the ground a little bit more and still at half forward where I tried to get a bit of the ball and tried to kick a goal if I could."

VIDEO: Hear from Tim Broomhead following his debut against the Bulldogs in 2014.

Broomhead has clearly taken a liking to the AFL's newest team, winning 23 disposals and kicking two goals in his side's gutsy win at Spotless Stadium in the penultimate round of 2014.

The story of Broomhead's arrival is oft told.

He was drafted to the Westpac Centre with pick No. 20 in the 2012 National Draft, becoming the third South Australian to join Collingwood in as many selections.
(function() { var po = document.createElement("script"); po.type = "text/javascript"; po.async = true; po.src = "https://d15mj6e6qmt1na.cloudfront.net/cdn/embed.js"; var s = document.getElementsByTagName("script")[0]; s.parentNode.insertBefore(po, s); })();
A product of the Port Adelaide Magpies, Broomhead arrived on the same day as fellow Croweaters Brodie Grundy (Sturt) and Ben Kennedy (Glenelg).

"I'm really good mates with Brodie, we see each other and spend a fair bit of time together. It's good having a mate like that," he explained.

"Kenno as well, we both get along well and see each other and talk to each other a bit. It's handy having those kinds of relationships.

"With me playing a similar position to Kenno, we competed for that spot a little bit in the first couple of years.

"I didn't play any games in my first year. He played maybe five or six so seeing him do it made me think I'd better get in as well."

Glandular fever put the brakes on his first year in Melbourne but he quickly made up for lost time by turning in some eye-catching performances in the VFL during the second half of the season.

A broken wrist in the opening NAB Challenge fixture restricted him in the early rounds of the 2014 campaign. His time eventually arrived in round 13 when he was a late inclusion for Dayne Beams.
And with pick 20, Collingwood welcomes Tim Broomhead from the Port Adelaide Magpies. That's our #tripletreat ladies and gentlemen!

— Collingwood FC (@CollingwoodFC) November 22, 2012

After starting his first two games as a substitute, Broomhead started to find his feet in the run home, kicking three goals in the disastrous loss to Brisbane in round 21 and a further two in the aforementioned win against Greater Western Sydney.

Broomhead is Collingwood's first nominee of the season, and follows in the footsteps of the likes of Sav Rocca, Paul Licuria, Josh Fraser and Scott Pendlebury.

Collingwood's Rising Star Nominees (1993-2015)
1993: Sav Rocca (round 13)
1994: Kent Butcher (round eight), Jon Hassall (round 22)
1995: Nil
1996: Andrew Schauble (round seven)
1997: Mal Michael (round 17)
1998: Nil
1999: Nick Davis (round five), Paul Licuria (round 18)
2000: Damien Adkins (round three), Josh Fraser (round six)
2001: Ryan Lonie (round four)
2002: Jason Cloke (round six), Mark McGough (round 10), Alan Didak (round 16)
2003: Richard Cole (round 17), Matthew Lokan (round 22)
2004: Guy Richards (round nine)
2005: Travis Cloke (round 10)
2006: Dale Thomas (round two), Heath Shaw (round five)
2007: Scott Pendlebury (round four), Marty Clarke (round 13), Tyson Goldsack (round 21)
2008: Nathan Brown (round 10)
2009: Jaxson Barham (round four), Brad Dick (round 11), Dayne Beams (round 17)
2010: Ben Reid (round 12)
2011: Alex Fasolo (round 22)
2012: Ben Sinclair (round 11)
2013: Marley Williams (round 18), Brodie Grundy (round 22)
2014: Tom Langdon (round seven)
2015: Tim Broomhead (round 11)
Memo @AFL Rising Star selectors. This man might be worth a nomination - http://t.co/5RS4H1NRnj @TBroomhead #gopies pic.twitter.com/ipexwjMcU4

— Collingwood FC (@CollingwoodFC) August 24, 2014