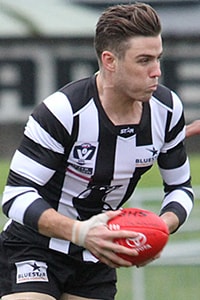 The VFL Magpies have won their second thriller in two weeks, defeating Sandringham by 10 points at Victoria Park on Saturday.

The Magpies had an excellent start, kicking six goals in the opening term.

The Collingwood defence proved too good early on, limiting the Zebras access to their forward 50 time and time again.

Ryan Pendlebury and Matthew Scharenberg starred, rewarded for their strong defensive efforts by being voted third and fifth best on ground respectively.

Mason Cox was voted best on ground; the American import fittingly celebrated the 4th of July with perhaps the best game of his career so far.

"Each week he's just doing more and more," VFL coach Dale Tapping said of Cox post game.

"Throughout the games he's become consistent and is progressing really well, there's a lot to like. Today was probably close to his best game."

The overall team performance was strong, reflected on the scoreboard where the VFL Magpies had eight different goal kickers.

"The boys were really good I thought. They played really strong footy again," Tapping told Collingwood Media.

"We got off to a really good start in the conditions and really controlled the game for the most part of three-quarters."

Brenden Abbott kicked three goals, Patrick Karnezis added two while Sam Dwyer, Paul Seedsman, Corey Gault, Ben Moloney, Nick Gray and Jack Blair all contributed majors on the day.

The Magpies started strong, but a late charge from Sandringham saw the Zebras get as close as three points.

"We started really well and put our stamp on the game. It would have been really disappointing for the result to go the other way," Tapping said.

In his first game back from injury, young ruckman Brodie Grundy impressed before being rested in the final term.

Tapping praised Grundy post game, detailing his efforts in the ruck.

"He was very good. Strong, aggressive and he gave us the first look at it in clearances.

"He gave us some support at ground level as well, which was great."

The Collingwood VFL team remains the clubs preferred way for injured players to return to match fitness after injury, with Tapping also quick to outline the VFL Magpies importance as a developmental tool to nurture young players.

"The win today, in isolation, was a great win but we don't take our eye off the path that we play as a development side...

"We want to be competitive and obviously win games of football, but (overall) we're a part of the football club and a significant part of the football club."

With finals football on the cards, Tapping isn't looking too far ahead but is confident his chargers can get the job done on the day.

"The competition is really even. I don't spend a lot of time looking at the ladder, you're just trying to make sure the guys are prepared well and playing their best footy.

"We've proven in the first twelve rounds that we can match it with most, so we know that if we play our brand (of football) that we're going to be pretty competitive."


Collingwood v Sandringham

Collingwood: 6.3 9.6 9.11 11.12 (78)
Sandringham: 2.0 4.3 5.6 10.8 (68)

Best: Cox, Dwyer, Pendlebury, Scharenberg, Kennedy and Young
Goalkickers: Abbott 3, Karnezis 2, Dwyer, Seedsman, Gault, Moloney, Gray and Blair

At Victoria Park.