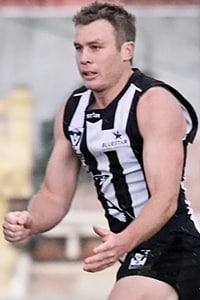 Strong performances from a host of returning Collingwood players have helped the VFL Magpies remain undefeated at Victoria Park in 2015.

Ben Reid, Ben Sinclair, Corey Gault and Tony Armstrong beat respective injuries and then beat the sixth-placed Casey Scorpions in a hard-fought contest on Sunday afternoon.

With Collingwood's AFL side in action across the city at Etihad Stadium, the VFL Magpies set a winning tone for the day with a 23-point victory.

"I think the boys were just excellent after half time," coach Dale Tapping told Collingwood Media post game.

"I'm really pleased with the way we combined as a team and the pressure we put on the ball and the opposition."

Whatever Tapping said at the main break clearly proved a stirring point for the Magpies. After a lacklustre first half from both sides, the home team broke open the game in the third quarter with five goals against the wind at the Sherrin Stand end of Victoria Park.

The Magpies were able to consolidate in the final term, with majors to Reid, Jack Hellier and 23rd man Ned McKeown extending the lead beyond the cusp of a Casey comeback.

After suffering a narrow four-point loss to Casey in round eight, Tapping applauded his side's ability to overcome the Scorpions in the two side's second meeting of the year.

"We were really limited for periods of the game," he reflected on the round eight clash.

"Today we felt like if we could bring that effort and be a bit sharper in some detail around how they play… we could learn from that. We did it really well."

Reid's placement as full forward may have shocked the Scorpions who were unable to quell the All-Australian's three goal performance.

With Collingwood's AFL side searching for someone to fill the void left by the injured Travis Cloke, Reid's impressive match may fast-track his progression back into AFL calculations.

"We just thought we'd give him a go up forward," Tapping said.

"We knew he was going to have a scoreboard impact and we knew he was going to be a threat for the opposition and they were going to be a bit concerned.

"He played the role really well in difficult conditions."

Sam Dwyer was once again named Collingwood's best player for his role in the midfield, while Jonathon Marsh was among a number of other experienced faces named as the most impressive players.

"I'm just really pleased with our leadership today," Tapping said.

"…from the VFL boys Jack Hellier and Ben Moloney, but also Clinton Young (who) was excellent with his organisation and impact on the game.

"Sammy Dwyer is playing really good VFL footy and put himself around the mark. Tony Armstrong returned today and really led well and used the ball well."

After gaining confidence from a win against a higher-ranked team, Collingwood can now take confidence into its trip to Williamstown to take on the second-placed Seagulls next Saturday afternoon.

As well as a crucial chance to climb the ladder, the match marks as the Magpies final away game of the season with a month of home matches to conclude the season.

Collingwood 1.1 4.4 9.4 12.11 (83)
Casey Scorpions 2.4 3.4 6.5 9.6 (60)

GOALS:
Collingwood: Reid 3, Young 2, Gray 2, Hellier, J.Williams, Gault, McKeown, Cox
Casey Scorpions: White 2, Hunt 2, King 2, McDonald, McKenzie, Newton

BEST:
Collingwood: Dwyer, Marsh, Seedsman, Borthwick, Hellier, Young
Casey Scorpions: McKenzie, White, Neal-Bullen, Hunt, Panozza, Terlich
At Victoria Park.