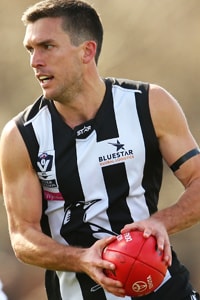 At least fifteen senior listed Magpies will be eligible for selection in next month's VFL finals series.

Should Collingwood's VFL team progress beyond the first week, the likes of Ben Reid, Brent Macaffer and Darcy Moore will among those available to the match committee.

In order to be eligible for finals selection beyond the first week, AFL-listed players must have played at least six VFL games and no more than twelve AFL games during the season.

But Macaffer, for example, is eligible due to the rule that stipulates players must have played six VFL games after 1 July.

As of 26 August, the status of Paul Seedsman, Jarrod Witts and Ben Sinclair remains unknown.

Seedsman has played twelve AFL games and Witts eleven, while Sinclair has played just five in the VFL, meaning he will need to play in the state league in the next fortnight if he is to be eligible.

Collingwood is guaranteed a place in the VFL finals series and will most likely finish between fifth and seventh on the ladder, depending on the result of its game against Port Melbourne in the final round of the home and away season this Saturday, as well as those involving other clubs in finals contention.

The first round of the VFL finals series will be played on the same weekend as the final round of the AFL home and away season, meaning all fit players on the club's AFL list will be available to play.

With the senior side out of finals contention, the VFL Magpies will then only be able to call upon those who are eligible should they progress to the Semi-Finals and beyond.

The following AFL-listed players are currently eligible to play in the VFL finals series
2. Sam Dwyer (12 VFL games in 2015)
3. Brent Macaffer (2)
7. Ben Kennedy (11)
12. Matthew Scharenberg (13)
14. Clinton Young (14)
17. Jonathon Marsh (14)
20. Ben Reid (7)
27. Tony Armstrong (13)
30. Darcy Moore (6)
33. Patrick Karnezis (11)
37. Brayden Maynard (9)
38. Matthew Goodyear (15)
39. Michael Manteit (15)
44. Corey Gault (9)
46. Mason Cox (16)

Collingwood has not won a VFL final since 2009, having lost three Elimination Finals in the years since.

In 2009, under then-coach Gavin Brown, the Magpies reached the Preliminary Final, only to be beaten by North Ballarat at North Port Oval.

Brown's team included the likes of Ben Reid, Jarryd Blair, Brent Macaffer, Chris Dawes and Sharrod Wellingham, who each went on to play key roles in the senior side's premiership triumph just twelve months later.



Jarryd Blair handballs through the centre of North Port Oval during the 2009 VFL finals series. Photo: Shane Barrie.