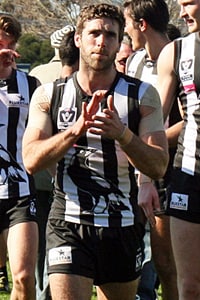 Collingwood have advanced to the second week of the VFL finals for the first time since 2009 after an uplifting 29-point victory over Werribee at North Port Oval.

The result means Collingwood's season will extend at least a week beyond than Sunday's rouns 23 AFL clash, with the VFL Magpies set to play Williamstown or Sandringham in a Semi-Final next weekend.

Saturday's victory marked the first finals win in Dale Tapping's tenure at the club, with the Magpies losing in the first week of finals in both 2013 and 2014.

Tapping told Collingwood Media post game that making amends for failure in the past wasn't a focus of the group during the week.

"These VFL boys are setting their own path," he said.

"To be perfectly honest, we didn't think too much about it. It was mentioned the other day, but it certainly wasn't front of mind for us.
"You look to learn, but except for a couple of individuals, it's a different squad."

Out of the 23 men who lost to Sandringham in last year's Elimination Final, just eight took the field at North Port Oval on Saturday afternoon.

One of which, Lachlan Wallace, starred in what Tapping described as "fantastic".

"Lach's been a really good player for us for four years now… he plays really, really well in finals," Tapping said.

"Today his attack on the footy was outstanding… he saved us a couple of times."

Wallace joined Jarrod Witts and Sam Dwyer as Collingwood's best players, while Patrick Karnezis led the Magpies in front of goal with three majors.

In further encouraging signs, Michael Still kicked two final-quarter goals to put an exclamation point on his return from a serious hamstring injury.

"It feels like a new season for me because I've been on the sidelines for a while now," Still told Collingwood Media post-match.

"Early on I sort of struggled to read the play. It felt like I'd missed twelve weeks, which I have.

"It took me a little while but it was good to get a couple away and the boys looked after me with the kicking."

With spring well and truly in the air, the higher intensity was evident as both teams lifted to the level you'd expect with no second chance available.

Collingwood dominated possession in the opening term and had nine scoring shots to two as the players caught their breath for the first time at quarter-time.

After a quartet of goals which came from VFL-listed players in the first 30 minutes, Karnezis and Witts took over on the scoresheet in the second term.

In front of thousands of fans happy to soak up the sun, the match hung in the balance in the third quarter as both sides battled to break the deadlock.

When Brent Macaffer goaled from directly in front late in the term, it appeared as though Collingwood had taken control.
Home sweet home! Ex-@PortMelbourneFC hero @samdwyer20 celebrates the win in his old change rooms #vflmagpies pic.twitter.com/GrcadBrVy8

— Collingwood FC (@CollingwoodFC) September 5, 2015
 
However in a game of twists and turns, Werribee refused to go down without a fight.

The Tigers kicked the first two goals of the final term to cut the margin to 18 points.

"They came at us throughout the course of the game," Tapping reflected post-match.

"We knew they would, they're a really good team. You don't get to this time of the year without the opposition challenging you in some way, shape or form," he said.

"But I thought when those challenges came, we handled them for the most part in a pretty positive manner."

This positive manner was on display more than ever as the clock wound down on a memorable day for a young Collingwood VFL side.

After Gus Borthwick snapped a late goal, the loud cheers coming from the Magpie Army drowned out the sound of a final siren which signalled that Collingwood's season will continue.

North Port Oval will be the setting once more, yet for now the opposition, and the makeup of Collingwood's team, remain unknown.

"There's a few guys available and we'll talk about that throughout the course of the week. If they become available it just adds to what we've already got," Tapping said.

"We'll respect the opposition… but for us it's about bringing what we need to bring.

"Today we did that."

Collingwood v Werribee
VFL 2nd Elimination Final
Saturday 5 September
North Port Oval, 12:10pm

Collingwood 4.5 7.8 9.11 13.15 (93)
Werribee Tigers 1.2 5.5 5.7 9.10 (64)

GOALS
Collingwood: Karnezis 3, Still 2, J.Williams 2, Gray, Witts, Borthwick, Macaffer, Close, Hellier
Werribee: Robinson 2, Speight 2, Porter, Hussey, Harper, Hanson, Sherlock

BEST
Collingwood: Witts, Wallace, Dwyer, Matheson, Borthwick, Armstrong
Werribee: Hussey, Speight, Sherlock, Mihocek, Porter, McMahon