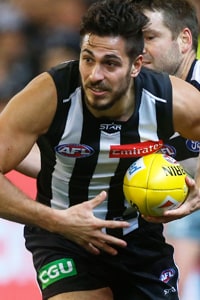 Collingwood's Patrick Karnezis will step away from the game, announcing his retirement after 25 AFL matches.

A passionate Collingwood supporter as a child, the 23 year old was drafted to the Brisbane Lions with pick No. 25 in the 2010 National Draft and played 21 games before securing a trade to the Holden Centre at the end of 2013.

Injuries plagued Karnezis in his first year at the Pies and it wasn't until round three this season that he broke into the senior side and added another four games to his AFL tally.

While playing football at the highest level was his childhood dream, Karnezis says he's excited about the next chapter in his life.

"After five years in the AFL system, it is the right time for me to step away and pursue other interests in my life such as my studies, overseas travel and opportunities in our family businesses," Karnezis said.

"I want to thank Collingwood and Brisbane for the opportunity to play at the elite level, the experiences I've had at both clubs has helped shape the person I am today."

Karnezis is an AFL Multicultural Ambassador and will continue to work with the AFL in the delivery of its multicultural programs.

Karnezis' retirement follows the departures of Sam Dwyer, Clinton Young, Tony Armstrong and Michael Manteit. The club also delisted Lachlan Keeffe and Josh Thomas with the hope both can return to Collingwood as rookies.



He's waited a long time for this moment. Congrats to tonight's Magpie debutant @patrickkarnezis #sidebyside pic.twitter.com/JPYoI5tcqU

— Collingwood FC (@CollingwoodFC) April 17, 2015