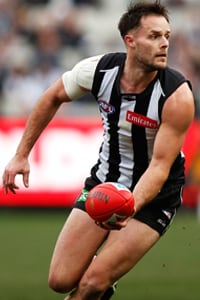 Like the perception of Millane himself, universal respect is often an attribute held by the Darrern Millane Perpetual Memorial Trophy.

2012 winner Alan Toovey was given the trophy as a reward for his unwavering commitment in defence, while Nick Maxwell (2007, 2010) and Scott Pendlebury (2013) were praised for their incredible leadership.

As the winner of Collingwood's best clubman award in 2015, Nathan Brown possesses both these qualities and many more.

Despite playing just three games in 2014, Brown proved an invaluable asset to the club as a leader off the field.

As a member of the leadership team once again in 2015, the defender was expected to do the same again this year, in addition to holding down Collingwood's backline.

For once, injury stayed away.

Brown played 21 games in 2015 as he joined with 23-year-old Jack Frost to be Collingwood's pillars in defence.

After the retirement of Maxwell and the provisional suspension of Lachlan Keeffe, it was an area of the ground where Collingwood was suddenly leadership.

However Brown's return, in conjunction with his determination to control the backline allowed this hole to be quickly filled.

"(Maxwell's retirement) has given me the all-clear to take over the backline and lead there, which in turn will make me a better player," Brown told AFL Media in February.

In a season with more highlights than lowlights, Brown was forced to momentarily relinquish his team-first attitude as he led the Magpies onto the MCG in round seven as he celebrated his 100th AFL game.

Personal achievements aside, Brown was everything his teammates needed him to be in 2015.

For his selflessness, leadership and dedication the defender can accept with pride the award dedicated to a player who like Brown always put the Collingwood jumper first.