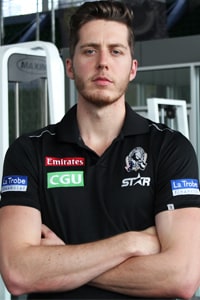 The Collingwood Football Club is excited to announce the signing of Melbourne-born basketballer Darrean Wyatt as a Category B rookie.

Wyatt, 22, joins the Magpies from the College of Coastal Georgia in the United States and will be classed under the same rookie category which kick-started the careers of Jarrod Witts and Mason Cox.

After spending three years on a basketball scholarship, Wyatt took initiative to change career paths and made initial the contact with Collingwood's recruiting department.

""It's really pleasing for us that we can announce the signing of Darrean Wyatt," List Manager Derek Hine told Collingwood Media.

"Most would be aware that our mantra in terms of trying to develop our list or look at other potentials is about looking outside the square.

"Darrean sent us a video and it was a bit of word-of-mouth type stuff from there."

Despite not having played football since his early teens, Wyatt's athletic 200cm build has the Magpies hierarchy viewing him as a potential key position player.

Hine believes that the natural sporting ability possessed by Wyatt can be translated to AFL success.

"He comes from down in the southern suburbs and has somewhat of a foundation in terms of Australian Rules football, although he is an elite basketballer," he said.

"At 200cm, he's a boy who has got really strong athletic traits. We feel potentially like we could develop him into a key forward or a key back and then with the scope to go through the ruck at times."

Wyatt completed a business degree during his time at Coastal Carolina while focussing on a promising basketball career.

In his final season for the Mariners he played 28 of the team's 30 games, including seven starting appearances.

Hine believes the 22-year-old brings to Collingwood the hard-working attitude often taught in the US College system and most recently seen in Oklahoma State's Cox.

"We're excited and really pleased with the way that Darrean attacking the program at this early stage.

"We'll wait and see how he progresses during the year but the way that he's started his entry into AFL football, it's one that hopefully we'll see him develop into a senior career."

In addition to helping secure international recruits, a club can sign a player as a Category B Rookie if he has not registered in an Australian Football competition for three years prior to being rookie listed.

Wyatt has commenced training at the Holden Centre and will spend the next twelve months attempting to prove that he has what it takes to command a position on Collingwood's primary list in 2016 and beyond.

Category B Rookies explained
each club can include up to three additional players (now referred to as Category B rookies) on its Rookie List provided the player either:

- has not registered in an Australian Football competition for three years immediately before inclusion on the Rookie List;
- is an international player, meaning he is not an Australian citizen and has not lived in Australia for a substantial period;
- is a former NSW Scholarship player with that club;
- is a former International Scholarship player with that club;
- is a rookie Zone Selection for clubs based in NSW or Queensland.