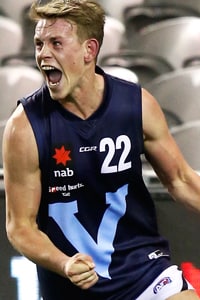 With its fourth and final National Draft selection (No. 65 overall), Collingwood selected Oakleigh Chargers captain Ben Crocker.

Crocker, 18, captained the Chargers to premiership glory against the Eastern Rangers in the TAC Cup.

Name: Ben Crocker
Recruited from: Oakleigh U18
Age: 18
Height: 185cm
Weight: 84kg
Position: Midfield/Forward

Profile: A high half forward with a great attitude to training. His brother, Sam, was once on St Kilda's list, while he hails from the same Oakleigh Chargers team that once featured Jordan De Goey and Darcy Moore. The Collingwood connection continues well beyond his Oakleigh days. He grew up as a passionate Magpie fan and lived next door to Scott Burns growing up.

What they say
"Crock captained this year and is a real competitor who doesn't like to be beaten. He trains at a very, very high level. He's more of a forward half player at this stage but he has shown at times he can go through the middle. He is good in front of goal, has good set of hands, and I think he played better when he's hitting up the ball rather than trying to wrestle but I think he shapes as one of our best hopes come draft time," – Oakleigh Chargers' talent manager Craig Notman in Inside Football, as compiled by Brett Anderson and Ben Casanelia.
Ben Crocker's family is Collingwood born + bred https://t.co/ZNVutHcsc5 Watch his U18 highlights now #InHineWeTrust pic.twitter.com/yeGFLZmG5a

— Collingwood FC (@CollingwoodFC) November 24, 2015