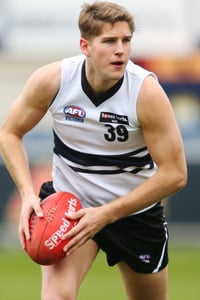 Collingwood have used their first pick in the 2015 National Draft to select midfielder Brayden Sier from the Northern Knights.

Name: Brayden Sier
Recruited from: Northern Knights
Age: 17
Height: 190cm
Age: 91kg
Position: Midfielder

Profile: Sier is a big-bodied midfielder who stands at 190cm and carries a playing weight of 91kg. He is a slightly unknown commodity who played two games for the Northern Knights in 2015. In his pair of appearances he averaged 15 disposals, three tackles and delivered the ball at 80 per cent efficiency. He didn't attend either the national or state combine, but spent the majority of the season playing for his school Marcellin, where he won their best and fairest. He also managed six senior games for Banyule in division three of the Northern Football League. He has good skills, uses the ball efficiently and has matured into a good-sized player.

What they said:
"Brayden is a late developer who played for Marcellin and won their best and fairest. He has been in our squads as an Under 15, but he was a little bit chubbier and heavier then, and he hadn't grown. He's a big-bodied mid with good vision, good hands, kicks the ball well and is a really good size and shape now. He only played a couple of games but he's created a lot of interest." - Northern Knights talent manager Peter Kennedy.

"He came into our side late in the year. That's just where he was development wise. We played him and there was enough there... A number of clubs tested him post season. We've tracked him right through but because of his size and shape and aerobic capacity more than anything... I think he was playing seconds school footy at one point. But he grew significantly across the year and he's just a fine shape of a kid at 190cm and 85kg." - Andrew Shakespeare, Northern Knights coach.
Welcome aboard, Brayden. We trust you'll enjoy the ride #sidebyside pic.twitter.com/vQMwPvUmBe

— Collingwood FC (@CollingwoodFC) November 24, 2015