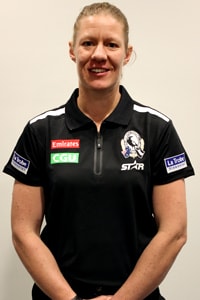 A men's and women's Collingwood football team side by side with all our fans behind us can only be good for the game.
Meg Hutchins
Collingwood Football Club is a step closer to realising its vision of being Australia's biggest and most inclusive sporting club, after submitting its application to be part of the 2017 AFL National Women's League.

As a foundation club of the Victorian Football League, Collingwood is committed to becoming a foundation club in the inaugural season of the National Women's League.

"Women's football is the future of AFL in Australia," President Eddie McGuire said.

"Our vision is that any young girl can look at the Collingwood Football Club and aspire to achieve her goals inside our four walls, whether that is as a player, a coach, a trainer or administrator. At Collingwood, women can aspire to be great."

A Collingwood women's team would utilise the club's $25 million state-of-the art facilities at The Glasshouse as well as Olympic Park Oval, all in the heart of Melbourne's sporting precinct.

"Our drive to achieve gender equality in football was born well before the establishment of the women's league concept and as a result we committed to building these world class facilities that provide women with a gym, change rooms, a fully interactive theatre, event space and meeting rooms," McGuire explained.

"We want female athletes to arrive at the Holden Centre and have access to the best facilities, the best coaches, the best support staff and have the greatest opportunities put in front of them so they not only become the best player they can be, but also grow as an individual."

In a league-first, the club recently appointed highly respected female footballer Meg Hutchins to the full-time role of Women's Football Operations Manager to build the framework of a women's program and oversee the growth of women's football at the grassroots level.

"We are heavily invested in developing and facilitating junior female football programs that will grow the game and make it a sport of choice for young girls across the country," Hutchins said.

"To have a huge club with a huge membership base throw its support behind women's football is only going to strengthen the sport and unearth strong female role models that young girls can aspire to be like."

If Collingwood's bid is successful, Hutchins will work closely with the men's football program to develop and implement the foundations for a successful women's team, including utilising coaching, recruiting and high performance resources.



Senior Coach Nathan Buckley, Womens Football Operations Manager Meg Hutchins and Director of Football Neil Balme

"The day is almost upon us where a female athlete can look at our great game and think 'I can be part of that'," Senior coach Nathan Buckley said.

"The prospect of bringing some of Australia's best female athletes into our high performance environment excites me and will further drive the culture of excellence at the Collingwood Football Club."

"A men's and women's Collingwood football team side by side with all our fans behind us can only be good for the game."
Collingwood already enjoys strong female leadership across all areas of the business, with Christine Holgate and Alisa Camplin on the Board and women making up 50% of its administration staff.

"Diversity matters at Collingwood and we strongly believe that women enrich our club on all levels of the business," CEO Gary Pert said.

"Our bid has the full support of the entire Collingwood family, including our premier partners, our community partners and our passionate members who can't wait to embrace another team running around in the black and white stripes."

Click here to hear McGuire, Pert, Camplin, Holgate and Hutchins speak about Collingwood's bid for a women's team.