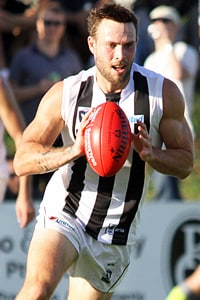 The Northern Blues were coming. After being held at distance by Collingwood for three quarters, the Josh Fraser-led Blues had all the momentum in the final term.

After kicking 11 goals in the first three quarters, the Magpies were outscored seven goals to three in the final term.

For the large crowd enjoying VFL football in a suburban setting, this was edge-of-the-seat stuff.

Dale Tapping raced down from the Collingwood coaches box to the boundary line as the minutes ticked away in the final term. He needed to be closer to the action.

He pumped both fists and smiled as the final siren sounded. It was a siren that signalled an escape for the Magpies and a much-needed win after two consecutive losses.

"It was a pleasing performance, particularly after our effort last week," Tapping told Collingwood Media post game.

"It's a funny game footy sometimes. Sometimes you don't know what you're going to get."

Despite the frantic finish, the Northern Blues never led in a game which begun with a Travis Cloke goal just minutes after the opening bounce.

The 237-game premiership player experienced all elements of Preston City Oval in what could only be deemed as a positive step forward.

Cloke played higher up the ground - mostly as a centre half forward, while also making a cameo in the ruck in the third quarter.

"He seemed to be enjoying what he was doing and that's pretty important," Tapping said.

"He took some marks and created some stoppages at ground balls for us... It was just his presence around the ground."

Joining Cloke in impressing the coach were fellow AFL-listed Magpies Brent Macaffer and Jesse White.

Macaffer was comprehensive in the midfield, while White was named the best player on the ground for his work in defence.

"We got Jess and Caff and Clokey who contributed really, really well," Tapping said.

"They all... generated some energy and had a significant impact on the game.

"I think the younger guys grew a bit of confidence off the back of that."

While experienced heads prevailed around the ground, younger faces stole the bulk of the attention in the forward line.

Former basketballer Darrean Wyatt kicked three goals in a dominant second term, while fellow rookie Tom Phillips also kicked three.

Ben Crocker and Jordan Collopy were the Magpies' other multiple scorers in a scoreline dominated by inaccuracy.

Now having squared the ledger at two wins and two loses, the VFL Magpies can put a tough two weeks behind them.

And a frantic final quarter can be forgotten.

"They came hard," Tapping said.

"But I thought our four-quarter effort was really brave."




Northern Blues v Collingwood
Sunday 30 April, 2pm
Preston City Oval

FULL TIME

Collingwood 4.9 8.10 11.15 14.16 (100)
Northern Blues 1.0 3.6 6.9 13.13 (91)

GOALS
Collingwood: Wyatt 3, Phillips 3, Crocker 2, Collopy 2, Cloke, Wills, Hellier, Alessi
Northern Blues: Casley 2, Gallucci 2, Wilson 2, Jaksch, Dick, Roos, Jones, Viojo, Kerbatieh

BEST
Collingwood: White, Macaffer, Cloke, Hellier, Crocker, Viola
Northern Blues: Wilson, Kerbatieh, Wood, Casley, Dick, Viojo

Recap Collingwood Media's live chat coverage of the match in the module below.


window.cilAsyncInit = function() {cilEmbedManager.init()};(function() {if (window.cilVwRand === undefined) { window.cilVwRand = Math.floor(Math.random()*10000000); }var e = document.createElement('script');e.async = true;var domain = (document.location.protocol == 'http:' || document.location.protocol == 'file:') ? 'http://cdnsl.coveritlive.com' : 'https://cdnslssl.coveritlive.com';e.src = domain + '/vw.js?v=' + window.cilVwRand;e.id = 'cilScript-37ebde0a43';document.getElementById('cil-root-stream-37ebde0a43').appendChild(e);}());