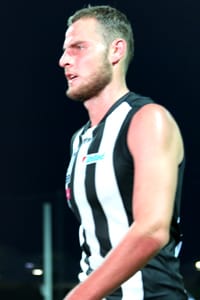 A large Collingwood crowd at the Holden Centre crowd wasn't enough to help the VFL Magpies overcome Sandringham in round five VFL action.

Led by a number of St Kilda-listed players, Sandringham proved too strong for Dale Tapping's Collingwood team.

The VFL Magpies trailed by two points at quarter time, but failed to kick a goal in the second term as the Zebras increased their lead.

Playing in front of a crowd eager for a fightback, Collingwood improved in the third quarter to keep the game alive.

Ash Close kicked his third goal of the evening to open proceedings after half time, and was joined on the scorers list by Nick Gray, Lachlan Howe and Jack Hellier as the quarter played out.

Gray's goal sought extra recognition from teammates and fans alike, with the match against Sandringham also doubling as the 23-year-old's 50th VFL game.

With 15 AFL-listed players to Collingwood's nine, Sandringham began to pull away in the final term.

Former number one draft pick Patrick McCartin kicked two last quarter goals, while St Kilda teammate Cameron Shenton kicked his third for the match.

The Magpies' most notable AFL-listed performance was arguably Jarrod Witts.

Witts took on American Jason Holmes in the ruck, in what will be assessed as a positive return from a hand injury which has kept him on the sidelines since March.

Gus Borthwick and Jonathon Marsh were also on return from injury, with the latter acting as a leader in defence in his second game of the season.

However a fresh injury concern could hang over defender Nathan Brown. The vice-captain left the ground in the third quarter and was seen icing his hamstring post game.

Brown was forced to watch from the sidelines in the final term as Sandringham piled on six consecutive goals.

The VFL Magpies had no answers as the clock ticked down, with the Zebras eventually running out 67-point winners.

A trip down the highway beckons for Collingwood, with Simonds Stadium playing host to a round six clash against Geelong.



Collingwood v Sandringham
Saturday 7 May
Olympic Park Oval at the Holden Centre
4.50pm

Collingwood 3.1 3.3 7.5 7.5 (47)
Sandringham 3.3 7.7 10.10 16.18 (114)

GOALS
Collingwood: Close 3, Hore, Gray, Howe, Hellier
Sandringham: Dennis-Lane 3, Shenton 3, McCartin 2, Kreymborg 2, Cook, Templeton, Answerth, Lok, Curren, Simpkin

BEST
Collingwood: Hinkley, Kelly, Witts, Smith, Hellier, Close
Sandringham: Answerth, Templeton, Shenton, White, Pierce, Curren

Recap the game via Collingwood Media's live coverage of the game.


window.cilAsyncInit = function() {cilEmbedManager.init()};(function() {if (window.cilVwRand === undefined) { window.cilVwRand = Math.floor(Math.random()*10000000); }var e = document.createElement('script');e.async = true;var domain = (document.location.protocol == 'http:' || document.location.protocol == 'file:') ? 'http://cdnsl.coveritlive.com' : 'https://cdnslssl.coveritlive.com';e.src = domain + '/vw.js?v=' + window.cilVwRand;e.id = 'cilScript-0f1498aba7';document.getElementById('cil-root-stream-0f1498aba7').appendChild(e);}());