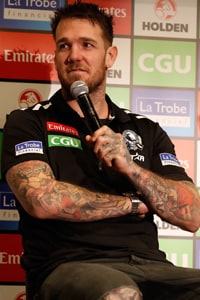 Collingwood champion Dane Swan has told teammates and fans his time as an AFL player is over.

In an emotional and humorous tribute to Swan, coach Nathan Buckley and past coach Mick Malthouse sat side by side with president Eddie McGuire and Swan's father, Billy.

Buckley said he was hopeful Swan would go around again but there was no guarantee his injured foot could stand up to the rigours of another year of AFL football.
The star Magpie's career is littered with individual accolades, headed by the 2011 Brownlow medal, his three Copeland Trophies (2008, 2009, 2010) and five All Australian selections (2009, 2010, 2011, 2012, 2013).

"Playing football for Collingwood was fun. As some of you may have gathered over the years it is a powerful motivation of mine," Swan said in a statement.

"In a way, I will never leave Collingwood because I know Collingwood will never leave me.

"I wore our black and white stripes with pride, always feeling that you were equally proud to see me waddle out in Number 36. We were good together."

Swan was an extremely popular figure and a key part of Collingwood's breakthrough 2010 premiership victory.

Swan's career was cut short after he broke three bones in his foot in the opening game of the season against the Sydney Swans.