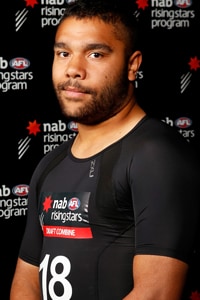 Selection No. 50 – Kayle Kirby

Position: Small forward
Height: 181cm
Weight: 89kg
Born: 31/8/1998
Recruited from: Bendigo U18

What they say

"Kayle is an excitement machine… Just a ripper. A Byron Pickett-clone with Cyril Rioli-type tricks. He's got some real x-factor, deadly accurate around goals, dangerous whenever he gets the ball, is physically intimidating and I think his speed is right up there with the best. Just got a big bag of tricks and he can used all of them in the one day. Small forward-type who could pinch-hit in the middle but he's only been playing football for three or four years so the upside is enormous. Fitness is the area of concern but if he was to get that right I think he could have an influence in senior football next year," – Bendigo Pioneers coach Brett Henderson, Inside Football, November 2016.