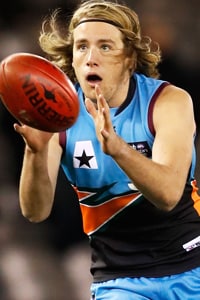 Rookie Draft: Selection No. 51 – Max Lynch

Position: Ruckman
Height: 198cm
Weight: 98kg
Born: 12/9/1998
Recruited from: Murray U18

Profile

"Max is very raw after coming from a soccer background. He's been playing football for only four or so years, came in as a bottom ager and worked hard and reaped those rewards this season as a top age player. He was pretty much our No. 1 ruckman for most of the season and for a big bloke he has really good mechanics with his kicking and can win the ball around the ground. Still developing his aerial work, but we saw some significant improvement this year, particularly late in the year where he played well in the Preliminary Final and Grand Final. A bit of a development project but the upside is certainly there," - Murray Bushrangers talent manager Lee Fraser, Inside Football, November 2016.