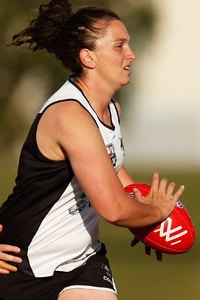 With her dreadlocks and her uncompromising attack on the contest, it's hard to miss Collingwood midfielder Lauren Tesoriero on the footy field.
You just have to look for the player at the bottom of every pack.
The 30-year-old's multi-sporting career has journeyed from her roots in Mount Evelyn, to the country town of Yea, to across the globe in Ireland, before bringing it back full circle to play footy at the Holden Centre.
And one thing has always remained the same – Tesoriero is one tough athlete.
"I learned how to play footy from my brothers in the backyard. They're pretty tough in the Yarra Valley. I didn't have a choice to be honest – it was either be tough, or get hurt," Tesoriero told Collingwood Media this week.
"I don't mind the contact. I embrace it. It's part of the game. If you're not getting knocked to the ground, then you are not trying hard enough."
Growing up in a small town in the Yarra Valley, a 10-year-old Tesoriero dreamed of playing football for her hometown club.
"I grew up at the Mount Evelyn footy club, but I wasn't allowed to play because my parents didn't let me."
After helping out around the club wherever she could – including boundary umpiring and running water – a family friend convinced her parents to let her play the last two games.
"I played those two games for the under-10s boys, and they were the only games the team won that season."
But with no pathways available to continue to play footy, the hard-hitting midfielder-forward turned her attention to basketball and netball.
As a standout netballer, Tesoriero played at representative level for the Mount Evelyn Netball club, and later played for the North East Blaze in the Victorian Netball League.
"My netball coach at the time – Kate Upton – is one of the assistant coaches at the Collingwood Magpies Netball, and two of the girls I grew up playing with – Micaela Wilson and Ella Baylis – are on the team, so it's pretty cool how we've all ended up at the one club."
In 2005, as an 18-year-old, she started playing senior women's football at the Yarra Valley Cougars.
"I played at the Cougars with a 13-year-old Sarah D'Arcy who was as courageous then as she is now."
One year on, Tesoriero was chosen for the Victorian state football team, and would travel to Ireland to represent Australia in the International Rules Series with current Magpie teammates Moana Hope, Meg Hutchins and Penny Cula-Reid.
After returning from the trip, the former netballer decided to move to the Victorian Women's Football League, where she's played for the Eastern Devils on and off since.
But after rupturing her ACL a few years ago, she turned her sights back to netball, but this time, in a coaching role.
"At the Blaze, I had been assistant coaching with Kate Upton a little bit while I was playing."
"Kate has become my netball coaching mentor and I've learnt a lot from her. She's a great coach and a great friend.
"I took on a head coaching role at Yea and coached there for two years in a successful period for the club. I then went to the Mansfield Eagles last year to coach."
With a promising netball coaching career on the side-lines, Tesoriero was still making an impact on the field with the Eastern Devils in women's football.
In 2016, the strong-bodied forward was one of the best contested footballers at the club, and averaged a goal a game for the Devils.
And when the AFLW draft came around in October that year, Collingwood selected the 170cm Tesoriero with pick No. 107.
"I knew I'd go late in the draft, as it had been my first year back playing with the Devils. I also knew if I was drafted, it would be by Collingwood as they had been the only club showing interest in me."
While her childhood dream came to fruition on draft day, Tesoriero had an unorthodox method of finding out she'd been selected.
"I had a hospital appointment that day because I'd broken my thumb playing in the last game for the Devils."
"I quickly got out of there and went to the closest McDonalds for some free Wi-Fi to watch the draft on my phone.
"It was a long wait and a long day, and I couldn't sit there anymore, so I started to drive home.
"I got to a point where I'd had enough and just couldn't watch anymore. But because I knew Collingwood may have been interested, I decided to wait for their next selection, and lucky enough, I was their next choice."
Despite growing up in a Sydney Swans family, when it was announced she'd be donning the Black and White stripes, Collingwood's No. 7 was able to reflect on a special connection close to her heart.
"My mum passed away nearly nine years ago, and she was a Collingwood supporter. It's pretty ironic where I've ended up, and it's been a really nice moment for me and the family."

Having seriously considered retiring from sport if she hadn't been drafted, representing Collingwood has been what she describes as a "second wind" and a revival in her sporting career.

"The best thing for me has been what it's done for the Mount Evelyn community."
"When I went to Ireland years ago, the entire community was right behind me. They funded that trip and to see them supporting me again at Collingwood is just incredible.

"All I wanted to do as a kid was play for Mount Evelyn, and now to see the kids growing up (including my niece) and fulfilling their dreams of playing football is great to see."
Tesoriero says her favourite player growing up was Sydney's Paul Kelly. But it's an opposition AFLW player and a new teammate of hers who have become her newest inspirations.
"I admire Melbourne's Daisy Pearce. I've played with her before and she's just amazing. We aren't the same type of player, but I love the way she goes about her footy."
"At the Eastern Devils, our biggest rival was Diamond Creek, but most of those girls have now become my closest mates at Collingwood.
"I love the way Millie Barden (a Creeker) plays her footy. I'm inspired by how she goes about it."
After being dropped following the loss to Carlton, Tesoriero returned to the team in impressive form and has emerged as one of the leaders in the midfield.
"In round one, I was thinking way too much. I've been coaching sport for so long, and I had to switch off that part of my brain and just play. Since being dropped, I've gone back to what I do best, which is get the footy."
Off the field, Tesoriero works in parks and gardens, but admits most people are more interested in her unique hairstyle.
"Most of my friends can't remember me without the dreadlocks, and to be honest, I've probably had them for way too long."
"I've been considering getting rid of them, but thought I'd better hang on to them as the fans might like a player with crazy hair.
"I told the girls if we won the Grand Final, I might chop them off. We still have a mathematical chance of making it, so you could see me with no dreads by season's end."
To have any chance of making the last game of the AFL Women's Competition, the Magpies will need to secure back-to-back victories when they take on Fremantle at Rushton Park in Western Australia on Saturday.
"Everyone is excited about getting away again, this time with the boys as well."
"Last week was an unbelievable experience. To get that win, and to give something back to the fans and the club who have invested so much in us was rewarding.
"I'm excited for the Freo game. I don't want last week to be a one-off, I want winning to be a regular thing for us."