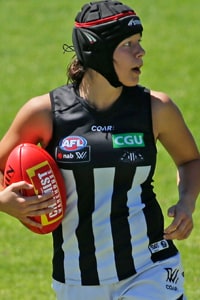 With a decorated football resume and an incredibly mature outlook on life, you may be surprised to know Collingwood midfielder Brittany Bonnici is only 20 years of age.
Growing up in Victoria, Bonnici first played competitive footy with the under-11s boys at the Wallan Magpies Junior Football Club.
If only she'd known back then, when she had to stop playing for her local club at under 14, that one day she'd be wearing the Black and White stripes for Collingwood and living out her dream of playing professional football.
In the nine years since, Bonnici has toured New Zealand as the vice-captain of the Australian AFL High Performance Academy, captained Victoria Metro Youth Girls to a national carnival title in 2015, was awarded a hat-trick of Youth Girls All-Australian selections, played for Melbourne in the 2015 exhibition match as an 18-year-old (drafted with No. 2) and has played every AFLW game for Collingwood in her debut season.
Did we mention she's only 20-years-old?
Despite her impressive football experience, the midfielder didn't expect to be drafted to the AFLW after playing only two senior women's games for the St Kilda Sharks at the end of the 2016 season.
"I took a break last year and only played two games of footy. In 2015, I had a bad run of concussions so I had to take a year off," Bonnici told Collingwood Media this week.
But while most of her friends were travelling, studying and enjoying their post-year 12 break, Bonnici was focused on chasing her dream.
"There was no way that I wasn't going to try and be a part of this first year of AFLW. Footy has always been a part of my life."
"I've always wanted to play at the highest level and being drafted to the AFLW was just another goal for me to try and achieve.
"After having a year off footy, I wanted to play again as soon as I could. I wanted it badly and for me, I was lucky the AFLW came around just in time."
On draft day, Collingwood drafted the elite 163cm runner with No. 27, with coach Wayne Siekman saying: "Britt is one of the best young talented midfielders in the game."
Bonnici was invited to the draft, along with her mum and dad, while her support crew, including her grandparents, family and friends, all gathered back at their home to watch the draft unfold.

FEATURE: The tale of Tesoriero.
"I was so nervous. I'd had a few meetings, but I didn't think I'd be drafted after not playing for a year."
And when Collingwood selected her with their fourth overall selection, Bonnici says the best part was celebrating with her parents and grandparents, who had spent years driving her around and supporting her while she played footy.
"When my name got called out, mum started crying, and dad was so happy as he'd supported Collingwood his whole life, and he just hugged me and had the biggest smile on his face."
"My grandpa is a lifelong Essendon supporter, so he rang me and jokingly said to me that I was asking a lot of him to support Collingwood.
"My grandparents were so excited for me. Everyone was so happy. My phone went crazy, and I guess I hadn't realised just how many people had been following my journey."
Despite the momentous occasion, it was a bittersweet moment for Bonnici as being drafted to the AFL had always been a dream shared by her close friend, Daniel. Sadly, when Brittany was 15-years-old, Daniel passed away in a tragic accident.
"It was really hard. No one prepares you for death. You don't really know what to do. I was really lucky to have the support around me. I had people who knew how to respect my space but then would be there when I needed them."
"Daniel and I had played junior football together. I have a screenshot on my phone of a conversation him and I once had about me being the first girl to play AFL.
"After his passing, I didn't know if I wanted to continue playing, because it was something we'd always bonded over, and he wasn't there anymore to share the experience with me."
But after a year of uncertainty about her football future, Bonnici decided to honour Daniel by playing the game they both loved.

FEATURE: D'Arcy's eye-catching start.
"I think about him every time I play. I write his initials on my wrist because it gives me that little bit of motivation, and it's something that makes me feel like he's out on the field with me."
"He and I always had the vision of me playing AFL, and when I was given that chance, I knew I had to honour him by doing the thing that first brought us together – playing footy."
And since she first lined up in round one against Carlton, Bonnici hasn't looked back. The rising midfielder has been one of the most impressive players in Collingwood's first season; with her ferocious tackling a standout.
"I like to think of myself as an inside midfielder. I like to try and get the footy and if that means having to tackle to get it, that's what I'll do."
"At the same time, running is one of my biggest strengths in my game, and that's why people see me also as an outside mid, as I'm able to get from contest to contest.
"I'm definitely a ferocious player and I try and pride my game on that. I'm one of the smaller girls, so if I don't make my presence felt, I'm going to get pushed around."
As a junior, Bonnici looked up to former coach and now Collingwood teammate, Alicia Eva.
"I've grown up learning from her and idolizing her, and now I have the unique opportunity to play with her and try emulate how hard she works on and off the field into my game."

FEATURE: Our AFLW wrecking ball.
Another aspect of Eva's game which Bonnici has been trying to model is her leadership. For Collingwood's No. 8, captaincy is a future aspiration.
"I'd love to be captain of Collingwood one day."
"At the moment, I want to develop my leadership more from Steph Chiocci and Eva, but definitely in the future, I do strive to be a key leader of this team.
Two straight wins + a chat to the boys on @TheRunHome. https://t.co/SDu65bUdxv @Steph_Chiocci spoke well on SEN yesterday. #gopies pic.twitter.com/SRBG9JpRLN

— Collingwood AFLW (@CollingwoodFCW) March 9, 2017
"From Steph, I've realised how important it is to have that balance as the leader. She knows how to have fun when it's time to muck around, and she knows how to step up when it's time to lead. Alicia leads by example. She doesn't need to be overly vocal, but she leads with her actions on and off the field."
Outside of footy, Bonnici is studying in her second-year of a social work degree at Victoria University, while also balancing a part-time job as a customer service officer.
But it's the new friendships, facilities and professionalism that has Bonnici loving life at the Holden Centre.
"Ruby Schleicher and I have become great friends. Everyone jokes how we're always together. Before 'Walks' (Georgia Walker) came to the club, we were the two youngest players, so we stuck together and we've formed a really great friendship that goes beyond footy."
"I'm also formed a great bond with Chiocci. I would have never expected it because I was one of the youngest, but that just goes to show the kind of person she is – she'll chat with everyone and includes us all.
"Having the access to elite coaches and facilities has made a massive difference to my game. We get to finally live out our dreams, so I'm trying to make the most of it.
"The way the girls have been able to come together – in such a short season – has been really special and there's something I just love about this group. Everyone believes in each other."
In addition to her avid work ethic and a lively personality, you may have noticed another key feature to Bonnici's game – her helmet.
"I started wearing the helmet because of my concussion history, but I don't need to wear it anymore."

ULTIMATE PREVIEW: Sunday's clash with GWS.
"My grandma told me if I don't wear it, she won't come and watch. So, that's what I do!"
New signage is up around the oval at the Holden Centre. Can only mean one thing: @aflwomens is on its way! We meet GWS here this Sunday pic.twitter.com/zxQUno6IGM

— Collingwood AFLW (@CollingwoodFCW) March 8, 2017
On Sunday morning, Bonnici, her helmet and the rest of the squad will be on display as the Magpies get to play at their home ground at the Holden Centre.
"Everyone is so excited that we're playing our first home game. It's exciting that we're coming off two wins so we do have the confidence."
"We're also aware of the Giants' potential. We don't underestimate them and we respect them. They are one of those teams that will do what they need to do to get the footy, so we'll need to come prepared on Sunday."
#BeBoldForChange pic.twitter.com/rgWmiJrmEJ

— Collingwood FC (@CollingwoodFC) March 7, 2017