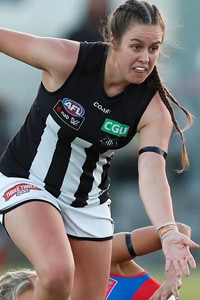 Having resided in her adopted home of Melbourne for almost four months, and having played every AFLW match to date, WA-born Collingwood Women's player Caitlyn Edwards only has one complaint – the weather.
"The one thing I'm not a fan of here in Melbourne is the weather. I'm from sunny Western Australia, so that's been an interesting adjustment for me," Edwards joked as she spoke to Collingwood Media this week.
The 20-year-old packed up her bags and jetted across the country late last year to chase a dream once fuelled simply by wanting to be like her mother.
"I grew up in Thornlie, Western Australia. I played netball like a lot of girls did before getting into footy."
"The only reason I wanted to play footy was because my mum played the sport back in the day, and my brother had also played footy.
"I'm really close to mum. She's a single parent at home and we've developed a great relationship. I'm the youngest, so I suppose I was always her little girl."
Before joining the local junior football club at age 10, Edwards honed in her craft, like many, in her backyard.
"We'd always be out the front kicking the footy. My brother is four years older than me, which has probably helped in the long run because I never won anything in the backyard. I'm harder and tougher because of it."
At the Thornlie Lions, Edwards played some of her junior football with former Carlton player, Clem Smith.
"We were in the same team, which was pretty cool. It was awesome to see him get drafted to the Blues a couple of years ago, and then to fast forward to now, where I'm playing AFL with the Pies."
"Thornlie is an amazing club. They helped me every step of the way and were always supportive of me playing with the boys."
When Edwards was 14, she had to move to women's football as league rules stipulated. In her first season following the switch, she won a premiership.
Following her instant success, the defender moved to East Fremantle where she played the next four years in the highest women's football division, the WAWFL.
During her time at the East Fremantle Sharks, Edwards represented the Western Bulldogs in the 2014/15 exhibition games; was awarded the 2014 Best & Fairest and was a two-time All-Australian.
She played with fellow WA recruit and now Collingwood teammate Ruby Schleicher, and was coached by Collingwood midfield coach, Nikki 'Webbo' Harwood – an esteemed women's football player and coach in her own right.
During her year 12 studies, Edwards played rugby at school, as football wasn't available.
"I just wanted to play sport. I got into rugby sevens and ended up getting picked to play at state level. I played rugby union for the last two years and really enjoyed that as well."
"I was playing rugby on a Saturday and footy on a Sunday, which was hectic, but incredible. I loved it, but I did have to manage my body a fair bit.
"I played a tournament in Adelaide for nationals the day before we started our first training session at Collingwood, so it was a pretty quick change over from rugby to footy for me."
The changeover proved beneficial, as the WA native was drafted to Collingwood with pick 43 in October's AFLW national draft.
However, with dreams of travelling on the 20-year-old's horizon, if not for a mother's intuition, Collingwood may have not been able to secure the services of its attacking defender.
"I actually wanted to go away to college in America in the lead up to the draft. It took me a couple weeks before the draft to decide. My mum stepped in and influenced me to take it seriously and pursue football. I'm glad she did."
But perhaps even her own mother was taken by surprise Edwards decided she wanted to move to Victoria to play footy.
"It was a massive step for me to nominate to play in Victoria. I've been coached by Fremantle coach Michelle Cowan and played with all the girls over there, so I wanted to experience something different and challenge myself."
"Victorian football is completely different to WA football. I wanted to venture out and try something new."
"This was my first time living out of home. I had it pretty good with mum in WA. I had the free WiFI, free food, the air con and all that. In the first week, we both called each other every day. She's come over for three games including this weekend, so I've loved having her a part of this journey."
Growing up supporting the Fremantle Dockers, Edwards says there was mixed emotions when she was drafted to Collingwood.
"When I was drafted, everyone loved the fact I would be playing AFL. Although my family are diehard Fremantle supporters, so they weren't massive fans of Collingwood at first. However, they've jumped on the bandwagon and wear the Collingwood gear down to the games. They're super excited for me."
"My poor brother gets a lot of banter and is given a hard time from his friends back home at his local footy club because his sister has made it to the AFL and he hasn't, which I find pretty funny!"
Adjusting to the Melbourne lifestyle has been made easier thanks to Edwards' roommate and Collingwood teammate, fellow WA-native, Tara Morgan.
"I live with Tara and she's been so helpful. She's taken me under her wing. She does the roast duties on Sunday night. I got lucky moving in with Tara."
With the No. 1 guernsey on her back, and her distinguishable longs braids, Edwards has played every game for Collingwood in its debut AFLW season.
Recruited as a running defender with a precise left foot, Edwards has been trialled in a number of positions this year.
"My style of footy is more run and carry. I do like to be in and under, but I'm best utilized on the outside. That's a very WA style of playing footy."
"I've been moved around quite a bit. I've played as a half back, as a forward and even in the midfield, so it's been a great learning curve and beneficial in my development. I haven't played a lot of time on the wing, but I'm trying to learn that position.
"I love the way Moana Hope goes about her footy. She has been helping me a lot with my development and she gives me great advice. I love the way Millie Barden attacks the footy. If I could attack the contest the way she does I'd be very happy with my game."
Edwards says one of her favourite moments from the season was in round five, when she and her teammates travelled back to her home turf to face the Dockers at Rushton Park in Mandurah.
"It was awesome to be in Mandurah. I knew the place so well, but at the same time, it didn't feel like home."
"It was awesome to be on a ground that I played so much football on, I felt more confident. Even to be on home soil, with a home crowd – despite them not barracking for Collingwood – was amazing.
"And having my whole family there watching me play for the Magpies was very surreal."
Away from footy, Edwards has been working at BOUNCE in Essendon Fields, and worked as a PE Assistant back in WA.
She says she's been content with her first year of AFLW football, and despite playing every game, believes she can play at a higher standard next year.
"I wish I had prepped myself a little better in terms of my fitness. I was fit, but I was rugby fit, and AFL fitness is a different ball game.
"I have very high expectations of myself. That's a blessing and a curse. I know I can play better than how I've played in this first season."
In the offseason, she'll be heading back to WA to play rugby, before sitting down to decide whether she wants to pursue football in her home state, or come back to Melbourne to play more footy.
For Collingwood's sake, let's hope she chooses the latter.
We'll be in prime position to hold onto her after she admitted she's loved her time at the Holden Centre.
"I've loved being a part of a club that wants to pave the way to grow and support women's sport. That's a big deal for me."
"I think it's awesome this club has four teams, but at the end of the day, we're one club. It's a great environment to be in.
"I've really enjoyed watching the netball program blossom here as well. I played footy with Ash Brazil – who is an absolute gun at footy and netball – and it's great having her at the club. I also love being around such professional athletes in Sharni Layton and Caitlin Thwaites.
Edwards will be looking to extend her streak of seven straight AFLW games this weekend, while her team will be vying for four wins in a row when they meet Adelaide at the Holden Centre on Sunday afternoon.
"We have to play the footy we know we can play. We won't take Adelaide lightly and we will respect our opponents."
"We're excited to play our last game at the Holden Centre. Knowing we can make the Grand Final, is perhaps a little ambitious, but we won't rule that out. It would be a pretty great underdog story. But this week, we just want to put on a good show for our home fans and secure the four points."