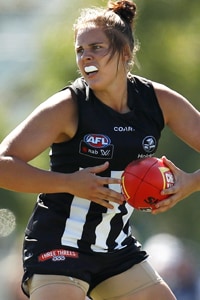 Collingwood women's coach Wayne Siekman says the historic first AFLW season has been an incredible learning experience for his players.

Following the Magpies' 24-point loss to Adelaide on Sunday afternoon at the Holden Centre, Collingwood officially finished their inaugural campaign with a 3-4 record, with Siekman describing his team's third quarter fightback as "breaktaking" against the grand final bound Crows.

"It was an interesting game. We rate Adelaide as the best team in the competition. They set up well, and they are very well coached," Siekman told the media in his post-match press conference.

"We were really looking forward to the challenge. We matched them early, but they got on top. I asked my players at half time for a really big effort.

"They had thrown everything at us at, so I wanted to see what this group is made of. Their response in the third quarter was simply breathtaking.

"Today showed that we're on the right track. That was probably our best football in that third quarter. But the Crows were too good, and full credit to them."

Following the long break, Collingwood came out firing, kicking three goals to take in a seven-point lead to the three-quarter time break.

But with Adelaide's finals hopes on the line, the Crows stormed home with the victory, despite it being a tightly contested all day.

"Coaching from the bench, you try to motivate your players and keep them in the game. That has really worked well for us since we made that decision in round three.

"The scoreboard probably didn't reflect the margin of the game."

Australian cricketer Jess Cameron was among Collingwood's best players, with Siekman crediting his small forward for her positive mindset following her momentum changing behind which she kicked in the final term.

"I love her attitude. She has been playing cricket, and she's an elite athlete already. But having opportunities and pressure, it's great. That's what the competition is all about."

Captain Steph Chiocci led from the front on the field, competing in the midfield with 13 disposals and five tackles. Forward Sarah D'Arcy had strong game, amassing 13 disposals and two marks, while veteran leaders Alicia Eva and Meg Hutchins collected 11 disposals a piece.
We played #sidebyside
We fought hard.
We made history.
We'll be back bigger + stronger.
See you all in 2018. #gopies pic.twitter.com/ph3qdrYP3c

— Collingwood AFLW (@CollingwoodFCW) March 19, 2017
 
Siekman says he had partly reflected on his side's season yesterday, after Melbourne defeated Fremantle, in turn eliminating Collingwood from the Grand Final.

"In a seven-week season, if you don't take your opportunities, you get hurt. It's been a really good learning experience for our squad. For next year, we know we can't have any lapses in concentration."

Siekman says he would like to see a top four finals series in the AFLW 2018 season, as players and teams continue to progress.

"The reason why the AFL didn't put in a finals series is because they didn't know it was going to be this good. It's been a hit. Imagine how many people would turn up next year (if there was a top four finals series). As we've seen in the competition, every team last week could've been playing for a top four spot."

"The scoring has gone up this round. The players are learning. They've been in an elite environment for the first time, so they are learning the day in and day out of what an athlete looks like. They get reviews, they are doing recoveries and learning what to do to prepare for the game. The competition will get bigger and better next year."

Following Sunday's game, Collingwood women's season has officially come to an end, with the players set report to the club next week.

"Next week, every player will come in and have an exit interview. They'll go through their positives, and what they need to continue to work on. We will then do a medical on them, and then going forward, we will wait to hear back on the AFL about the list retention in 2018."

"At the moment, where it stands, we'll be able to retain up to 20 players on our list. But we're not sure when that decision by the AFL will be made, or what that will look like. After that, we can start making list decisions for next year."



Your 2017 AFLW Magpies! Thank you for an incredible, historic + resilient season 👏 S I D E B Y S I D E #gopies pic.twitter.com/fk46kzvBqm

— Collingwood AFLW (@CollingwoodFCW) March 19, 2017