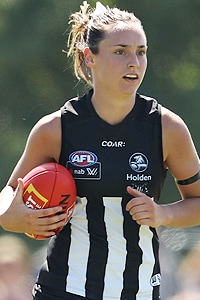 Collingwood defender Nicola Stevens penned her name in the history books when she was announced Collingwood's first AFL Women's Best and Fairest winner at the MCG on Wednesday night.

The best-and-fairest title is awarded to the player demonstrating excellence in their on-ground performance while exceeding expectations set by the coaches and team.

Stevens, 24, was recruited from Melbourne University with Collingwood's first selection in last year's inaugural National Draft (sixth overall) and proved to be a worthy selection with an average 9.6 disposals and total of 22 tackles during the season.

It ended a successful 24-hours for Stevens, who received All-Australian honours along with her teammate Emma King at the W Awards on Tuesday night.

Stevens finished on 58 votes, with a stellar performance against the Fremantle in round five, where she collected 18 disposals, helping push her to the top of the pile.

Next in the vote count were Collingwood vice-captain Alicia Eva (runner-up, 54 votes) and Melbourne Stars cricketer Jess Cameron (third-place, 39 votes).

Another Melbourne University recruit, Eva trailed Stevens by four votes at the final count and was also selected by her peers for the Players' Player award.

At 163cm, Eva ranked within the top 10 for tackles competition wide, laying a total 32 for the season.

Cameron's versatility saw her play a role in various parts of the ground, while still managing to finish second on the goal kicking tally behind Moana Hope after the seven-game season.
Collingwood 2017 AFL Women's Best and Fairest
1. Nicola Stevens (58)
2. Alicia Eva (54)
3. Jessica Cameron (39)

Players' Player Award
Alicia Eva

Leading Goal Kicker Award
Moana Hope

Collingwood AFL Women's Best and Fairest voting procedure
Collingwood Women's Senior Coach Wayne Siekman and assistant coaches Nikki Harwood, Brendan Major and Harmit Singh form the selection committee and vote confidentially each game.

Committee members can allocate up to 22 votes each per game and players can receive a maximum of four votes from each member.

Each player can receive votes as follows:
- One vote for playing a role above expectations
- Two votes for a very good performance
- Three votes for an outstanding performance
- Four votes for a match-winning performance, top end of excellence