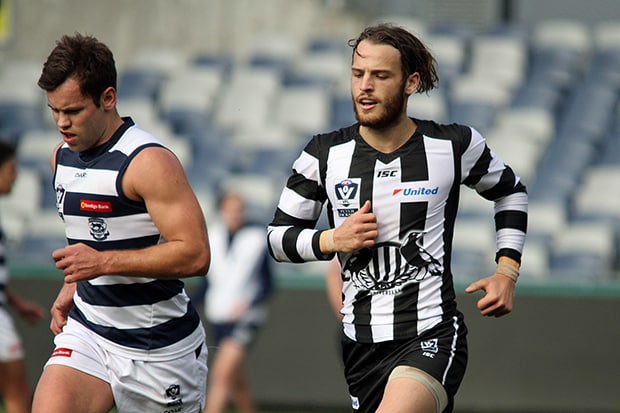 FULL TIME FROM SIMONDS STADIUM

Collingwood: 4.0 5.2 9.4 11.10 (76)
Geelong: 1.2 5.3 6.6 7.8 (50)

GOALS
Collingwood: Kirby 4, White 2, Blair, Crocker, Hellier, Aish, Borthwick
Geelong: Hayball, Capiron, Tsitas, Gardner, Ratugolea, Dobson, Henry

BEST
Collingwood: Aish, Wills, Hore, Mayne, Beveridge, Kirby
Geelong: Tsitas, Mclachlan, Jones, Garnder, Edwards, Dobson

Collingwood's VFL side has secured its third consecutive win after defeating Geelong by 26 points at Simonds Stadium on Saturday afternoon.

After toppling two top four sides in recent weeks, a less experienced Magpies side arrived at the Cattery full of confidence.

A scrappy start to the game was mended by a four-goal opening quarter to the away side, with small forward Kayle Kirby accounting for two of the majors.

However, a strong response from the Cats in the second quarter – including four goals to one - prompted Geelong to a one-point lead at the half.

But after the major break, it was all Collingwood.

Goals to James Aish, Jack Hellier and Gus Borthwick willed the Magpies forward in the third term, while Jarryd Blair and Rupert Wills exerted their control in the engine room.

Defenders Henry Schade, Kye Beveridge and Dale Hinkley were impressive as they managed to stem the flow of a Geelong momentum change late in the third.

Geelong had plenty of opportunities early in the third, with poor kicking in front of goal and around the ground crippling their chance of getting back into the contest.

For the Magpies, it was a welcome return to form for forward Jesse White, who kicked two goals and was impressive with his contested marking around the park.

His attacking counterpart Chris Mayne was just as imposing in the forward half, enjoying one of his better all-round performances for the VFL Pies.

He was joined by Aish, Wills, Marty Hore, Beveridge and Kirby as the stand outs for the Jared Rivers-led side.

The only souring note of the four-goal victory were the injuries to Ben Crocker and Brayden Sier, who both appeared to sustain respective leg injuries. Neither returned to the field in the final term.

Next up for the VFL Magpies is Williamstown. Be there from 1pm on Saturday at Victoria Park.



Chris Mayne and Kayle Kirby were among the VFL Magpies' best in their win against Geelong. Photo: Shane Barrie.
FULL RECAP