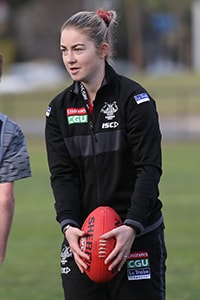 Collingwood will field a sixth sporting team in 2018 after being granted a VFL women's licence in what will be an expanded VFLW competition next year.

Strengthening Collingwood's commitment to elite female sport in Australia, the addition of a VFLW team means that the club has added four new teams to the Magpie family over the past two years.

The new Victorian women's side will join the club's AFL and AFLW programs, the VFL men's team and the two Magpies Netball squads in donning the Black and White stripes next year.

As part of an expansion by AFL Victoria, Collingwood was awarded one of six new VFLW licences.

In further exciting news for the club, former Collingwood AFLW defender Penny Cula-Reid has been appointed the Senior Coach of the VFLW side.

Widely recognised as one of the key pioneers of women's football, Cula-Reid brings over 13 years of VFLW experience to the Pies' coaching ranks.

After a decorated career with the St Kilda Sharks, Cula-Reid played out her childhood dream when she was drafted to and later debuted for Collingwood's women's side in the inaugural AFLW competition earlier this year.

"I'm so grateful for this opportunity that Collingwood has given me to lead its VFLW team," Cula-Reid said.

"Coaching is something I've always been passionate about and I'm proud to be involved with an organisation that continues to drive and develop women's sport.

"We're excited to work with some of the best and up and coming female footballers here at Collingwood."

Cula-Reid will lead a coaching panel that will include a strong presence of female coaches, as the club continues to develop and strengthen its Female Coaching Pathway Program.

Many of Collingwood's AFLW foundation players – including household names Moana Hope, Meg Hutchins and Steph Chiocci – have come through the VFLW pathway in recent years.

Collingwood's AFLW Operations Manager Mathew James said Collingwood would continue to play an important leadership role in women's sport.

"Collingwood's alignment with a VFLW team marks an important step in the club's development and commitment to women's sport."

"The team will work in tandem with the AFLW program, with a focus on developing a strong pathway for the next wave of players and coaches in women's football."

Applications for Collingwood's VFLW team are now open. To be eligible for the club's primary list, players must be 18 years of age as of 1 January 2018.

Those who have not participated in an AFL program or been involved in a high performance AFL program (i.e. State Academy or TAC Cup program) in the 3 years up to 1st April 2018 are eligible to apply as a cross code rookie.

Click here to apply for Collingwood's VFLW team.

Click here to apply for Collingwood's VFLW team as a cross code rookie.



Penny Cula-Reid will take the reigns as Senior Coach of Collingwood's VFLW team. Image: Collingwood Media.