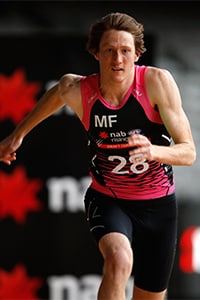 Selection No. 39 – Nathan Murphy

Position: Forward
Height: 188cm
Weight: 80kg
Born: 15/12/1999
Recruited from: Sandringham Dragons

Profile

Medium forward with excellent natural leap for the ball, Murphy is a strong overhead and is a clean mark out in front. An agile and versatile type with good goal sense, Muprhy was a prolific goal scorer at Brighton Grammar before playing for the Dragons. Outstanding cricketer having represented Victoria at underage level. Ran the 2km time trial in 6:21 at the Combine, which placed him among the best performers.
Did you know?
- Murphy was an elite young cricketer, before opting to pursue an AFL career.
What they say
"He's a bit of a loveable larrikin that comes from cricket. He can play forward and back as a third tall and potentially if he builds up his tank, he can push into midfield with his athleticism. His endurance, agility and recovery are very good and he's really aware of those around him. I think he's a natural defender who can go forward and he gets in the right spots," – Ryan O'Connor (Sandringham Dragons Talent manager), Inside Football, November 2017

Whatever connects you to Collingwood is your unique FOREVER story, and we'd love you to share it.

All entrants have the chance to be a member... FOREVER. A membership for life is on the table for one lucky winner. You could be a full paid-up Collingwood member for the rest of your life, just for sharing your FOREVER story.

Click here to share your FOREVER story now.