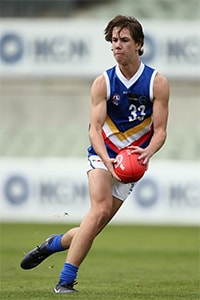 Selection No. 50 - Tyler Brown

Position: Midfielder
Height: 189cm
Weight: 81kg
Born: 09/12/1999
Recruited from: Eastern Ranges

Profile

Developing medium midfielder with elite agility. Brown shows poise with the football in hand and has massive upside physicality. Mixed football between Marcellin College and Eastern Ranges. Brother to Callum Brown and son of former Collingwood star Gavin Brown. Much like his dad, the 17-year-old is a skilful wingman who isn't a big talker. The Magpies nominated Brown under the father-son rule.

What they say
"He's very much like Gavin, in that he's a shy boy, very introverted in the way he goes about his business, but like his old man, he has a lot of ability. I think he'll end up playing on the wing like Gavin because he's got some attributes that really stand out. He's got good pace, he's a good size, a beautiful step and (has good) awareness," - Darren Bewick (Eastern Rangers coach), afl.com.au, 16 October 2017

"In the past six to 12 months, he has really started to grow into his body. His talent is untapped, he has a massive ceiling in terms of where he could potentially get to. He just does AFL things, there are things he does in games, I call it having the 'Brown brain'…His movement and ability in and out of traffic is similar to Cal," – Len Villani (Eastern Rangers talent manager), Manningham Leader, 15 June 2017

"Tyler is a developing midfielder with a good turn in traffic. At 186cm, he is taller than both his older brother and father. He's shown at times throughout this season that he certainly looks like he's AFL capable. He's very sure with ball in hand and makes really good decisions," – Derek Hine (Collingwood's National Recruiting Manager), afl.com.au, 25 October 2017

Whatever connects you to Collingwood is your unique FOREVER story, and we'd love you to share it.

All entrants have the chance to be a member... FOREVER. A membership for life is on the table for one lucky winner. You could be a full paid-up Collingwood member for the rest of your life, just for sharing your FOREVER story.

Click here to share your FOREVER story now.