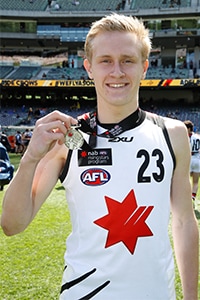 Selection No. 6 – Jaidyn Stephenson

Position: Midfielder/Forward
Height: 189cm
Weight: 75kg
Born: 15/01/1999
Recruited from: Eastern Ranges/Vic Metro

Profile

A graduate of NAB AFL Academy, Stephenson is a medium midfielder or forward with line-breaking speed, who is strong overhead and a long, accurate kick for goal. His 28 disposals and five-goal performance against South Australia in the NAB AFL U18 Championships was a highlight. He topped off an outstanding year with a best-on-ground performance in the All Star game at the MCG on Grand Final day, as well as showcasing his athletic potential at the Draft Combine. Successfully transitioned from a forward role into the midfield late in the TAC Cup season and enjoyed a strong patch of form for the Ranges.

Did you know?
Stephenson and a few of his friends started their own men's apparel brand – Class Above.
He played basketball, tennis, cricket and karate before his AFL ambition
His sister Tegan is a promising netballing talent, who has made the under-17 national squad.
What they say

"Jaidyn is just a natural, instinctive player who is a match winner. He can go forward and kick goals, can play through the midfield or a wing and has been averaging 25 possessions. In one of the national championship games for Vic Metro, he had 25 touches and kicked five goals off a wing. He is ready to go as an AFL player despite still being pretty light. He has some serious x-factor and has things going for him that not a lot of players have. I'd expect he'll be among the top 10." – Darren Bewick (Eastern Rangers coach), Inside Football, November 2017.
"I think absolutely, he's got cult hero written all over him. I definitely think the fans will like him because he's going to shoot onto the scene pretty quickly and have an impact in terms of his goal scoring prowess and different types of things he bring to the game. He's not just your meat and potatoes type of footballer, he's something pretty special, he's your three-course meal." – Len Villani (Eastern Rangers talent manager), Knox Leader, 16 November 2017
"On medical advice that we've received there is no risk in picking Jaidyn Stephenson in this year's draft. The information that has been received and handed to the AFL clearly states that the specialists are happy for Jaidyn to enter the AFL and have a long career," – Robbie D'Orazio (Stephenson's Manager – Connor Sports Management), afl.com.au, 14 November 2017
"He is quick and sharp and nimble, he has a good leap, and he loves to dash away with the ball. He'll start his career in the forward line and is capable of kicking bags when given some space," – Callum Twomey (AFL Draft Guru), afl.com.au, 22 November 2017
"The X-factor option in the 2017 draft, Stephenson has developed into a midfielder with Eastern Ranges this season. His 39-disposal performance against Sandringham certainly caught the eye. At 189cm, the youngster has plenty of upside and could be a surprise selection depending on the club," – Ben Higgins (Journalist), Herald Sun, 19 October 2017

Whatever connects you to Collingwood is your unique FOREVER story, and we'd love you to share it.

All entrants have the chance to be a member... FOREVER. A membership for life is on the table for one lucky winner. You could be a full paid-up Collingwood member for the rest of your life, just for sharing your FOREVER story.

Click here to share your FOREVER story now.