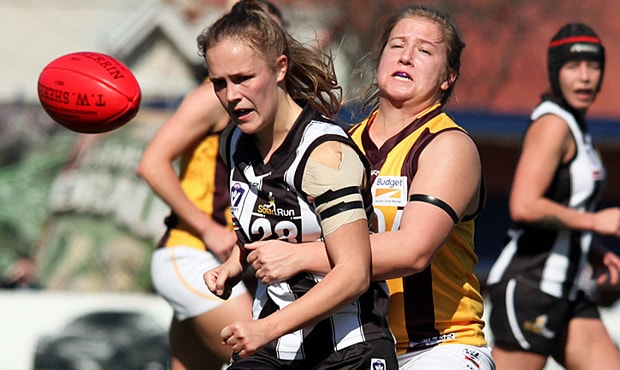 Collingwood VFL Women's team fell 11-points short against Hawthorn in the First Semi-Final at North Port Oval on Saturday.

The Magpies, who finished on top of the ladder after the home and away season, weren't at their usual best from the start, missing the defensive pressure that has been so key to their game.

Collingwood head coach Penny Cula-Reid explained that the loss did not come down to the execution of skills on the day.

"We somehow lost who we were and the team knew that in themselves.

"There was some complacency that has filtered through our team the last couple of weeks.

"All of it had nothing to do with skill, it's was other things which are easy to fix."

Overall, the Hawks proved too strong, being first to the ball and making clearances look effortless. An early goal from Rosie Dillon set the tone to ensure the Hawks had a dominant presence in the match.

A goal from Chloe Molloy early in the second restored the Magpies' confidence, but this was soon shut down by back-to-back goals from Sarah Perkins and Emma Mackie, taking the Hawks to an 11-point lead at half time.

While the Magpies found a way to lift their game in the third, the Hawks still managed to keep things on their own terms with Perkins booting another from a set shot.
We can't wait to get out there again next week stronger, bigger and better. C'mon the Pies! 💪🏼 #vflwmagpies pic.twitter.com/r0upfYRhZn

— Collingwood Women's (@CollingwoodFCW) September 8, 2018
 
Both Sophie Alexander and Molloy tried to mend Collingwood's situation heading into the final term with two early goals, but Mackie proved unstoppable, kicking her third for the day and ultimately securing the Hawks' win and their position in the Grand Final.

Collingwood will now turn its focus towards next week's Elimination Final where they will meet the winner of Sunday's clash between Geelong and the NT Thunder.

Cula-Reid says her team will use Saturday's loss to drive them in next week's match.

"We'll put it back on the girls to identify what went wrong and how we fix it, giving the ownership back to them," she said.

"It's just about ensuring what happened today doesn't happen again."

Collingwood 0.1 1.2 1.2 3.3 (21)
Hawthorn 1.1 3.1 4.1 5.2 (32)

Goals – Collingwood: Molloy 2, Alexander
Hawthorn: Mackie 3, Perkins 2, Dillion