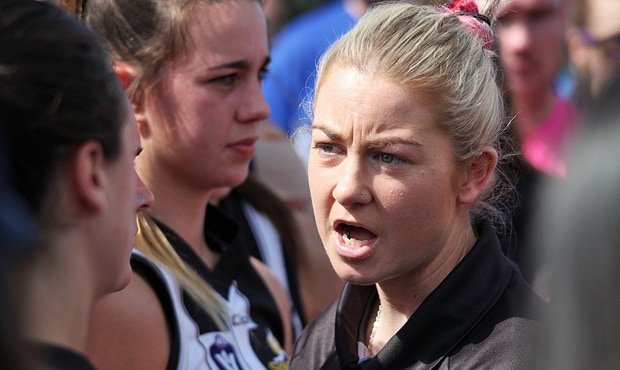 Penny Cula-Reid always dreamed of coaching Collingwood.

Specifically, she dreamed of becoming the club's first female coach.

In 2018, she has lived both those dreams and so much more.

The 30-year-old led Collingwood's VFL Women's team to the minor premiership in its inaugural season, and was honoured by AFL Victoria, who named her the competition's Coach of the Year on Monday night.

"I'm very humbled and blessed, firstly with the opportunity to coach, but more so at the club that I love, Collingwood," Cula-Reid told Collingwood Media.

"When I was in grade two, we were asked what we wanted to do when we grew up. All my friends said they wanted to be a vet or a police officer. I wanted to be the first female coach of Collingwood, because back in grade two, there was no AFLW and no sight of having any type of women's football.

"That was always my ultimate goal, to be the first female coach of the Collingwood Football Club."

Cula-Reid's path to the senior coaching role saw her spend 13 years playing in the state competition with the St Kilda Sharks, before joining the Magpies for the inaugural AFL Women's competition in 2017.

She played two games last year, and considered playing on, but realised her body wasn't able to go through another campaign.

Instead, she turned her eye to coaching.

"When the AFLW came in, it was my goal to play there, but it transferred into coaching," Cula-Reid continued.
Huge congratulations are in order for our very own Penny Cula-Reid, who has been named the @VFL Women's Coach of the Year! A phenomenal result in her first year of coaching. Congrats, Penny. We're super proud of you #vflwmagpies pic.twitter.com/0UH9Vw6t3O

— Collingwood Women's (@CollingwoodFCW) September 10, 2018

"I've always loved coaching and I've always loved educating and teaching football, but mainly women's football.

"I can proudly say that I am the first female coach of the Collingwood Football Club and winning an award ties into the reason why I wanted to coach, which is to be successful in developing young girls into being the best they can be."

Cula-Reid described moving from a player to a coach as 'more a jump than a step', but she was never going to balk at the opportunity to lead the new team.

"At the end of the AFLW season, I was approached with the chance to be the senior coach of the VFLW program or be an assistant coach and potentially play.

"I had a week to decide and I thought, if I'm going to do something, I want to do it well, so I decided to take on the senior coaching role, not knowing what was going to happen with the support around me, who was going to be there, who wasn't going to be there, what players we would have and not have and starting that process.

"It was all worth it in the end and hopefully we can make it all the way through to the Grand Final and cap off a fabulous season.

"For me, it was the right step in the right direction. But it wasn't a step, it was a jump. For people that know me, I jump in head-first and deal with the consequences afterwards, but I have taken it on and run with it."

Cula-Reid has juggled senior coaching with two part-time jobs, but says the satisfaction coaching gives her makes all sacrifices and commitments worthwhile.

"I love coaching. I love seeing the girls' faces. When they hit a target they go 'Did you see that! Did you see what I did?' and you're immediately feeling how you've shaped those footballers.

"Ultimately, seeing some of those get drafted – fingers crossed – would be a proud moment in any type of coaching career, to say you helped that player develop and get to where they are now.

"It's that mothering feeling, to see your child grow up and blossom into this amazing footballer.

Whatever the future holds, Cula-Reid wants it to involved coaching, and football, at the highest level possible.

Her passion for the game, and for women's football, is infectious and a key driver behind her team's journey to this Sunday's Preliminary Final against Geelong at North Port Oval.

She paid credit to AFL Women's senior coach Wayne Siekman, who helped develop a strong coaching relationship with Cula-Reid throughout the year, giving her license to develop her team with her own style.

"Fingers crossed I still get the nod to continue coaching next year!

"Ultimately, the goal is to coach AFL. I've been asked if I want to coach in the AFL or the AFLW. Some type of role in the AFL would be great for my own development, to see how the men do it.

"(But) the women's game is so different, and just learning from some of the coaches, their different teaching points and how to motivate players and get the best out of them is what I am interested in.

"I love women's footy and I want to grow this game. I have been so passionate about women's footy since I was a little tacker and I want to make this the best product it can be.

"If I can do that by developing young females to be the best footballers they can be, then ultimately that's my goal."
Just quietly Penny Cula-Reid said I had a great kick after one of the AFLW matches. If I ever do get into footy it's because of her and her belief in women playing footy

— ash (@ashleighkatexx) September 10, 2018