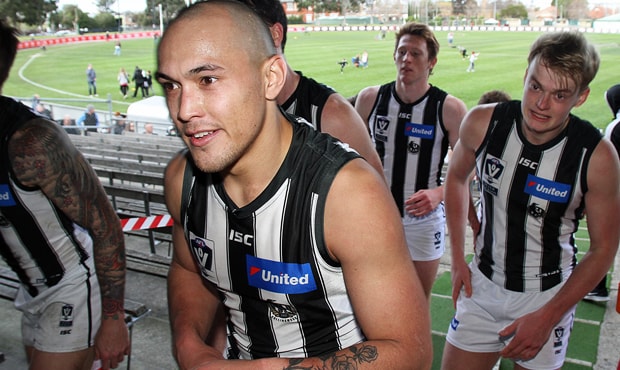 After 12 rounds of the VFL season, Alex Woodward had not polled a Liston Trophy vote.

Heck, he hadn't even played a game after 12 rounds.

He hadn't managed a game since round three of the 2017 VFL season, when he ruptured an ACL for the fourth time in his AFL / VFL career.

Yet, somehow, by the end of the 21-round Liston count, Woodward had polled 16 votes from seven matches, and was just one more best-on-ground performance away from matching overall winners Anthony Miles (Richmond) and Michael Gibbons (Williamstown).

It is a remarkable performance from a player who continues to inspire his Collingwood teammates and those from elsewhere through his positive attitude, his commitment and incredible skills.

Woodward returned to the game with 28 disposals and nine clearances against Williamstown in round 13, and had 28 touches or more in five of the six home and away games that followed.

Statistically, his year peaked with 34 disposals, seven clearances and three inside 50s against Sandringham in the final round, before winning a further 24 disposals, eight clearances and seven tackles against Essendon in the Elimination Final.
He's a star! https://t.co/Z4ZGVuqTiP

— Nathan Buckley (@ncb_cfc) September 10, 2018
 
Woodward knows how to poll a Liston Trophy vote. He won the overall award back in 2014 while playing with Hawthorn's affiliate Box Hill.

He was originally drafted by the Hawks back in 2011 after featuring in Sandringham's TAC Cup premiership success, where he was coached by soon-to-be Collingwood VFL coach Dale Tapping.

Despite requiring three knee reconstructions during his time at Waverley Park, Woodward managed two AFL games in 2014.

J.J. Liston Trophy: The Top 10
19 – Anthony Miles (Richmond) / Michael Gibbons (Williamstown)
16 – Alex Woodward (Collingwood) / Sam Collins (Werribee)
14 – William Hayes (Footscray)
13 – Andrew Moore (Box Hill) / Nick Hind (Essendon) / Tom Atkins (Geelong)
11 – Cameron Pedersen (Casey) / Ben Cavarra (Williamstown) / Brett Bewley (Williamstown) / Lachlan Schultz (Williamstown)

Collingwood's Liston Trophy Leaderboard
16 – Alex Woodward
7 – Marty Hore
5 – Alex Fasolo
4 – Sam McLarty / Rupert Wills
3 – Jarryd Blair / Jordan De Goey / Jack Madgen / Adam Oxley / Josh Smith / Daniel Wells
2 – Gus Borthwick / Callum Brown / Ben Crocker / Andrew Gallucci / Tom Jok / Brayden Sier / Lachlan Tardrew / Callan Wellings
1 – Jack Hellier / Sean Hetherington / Max Lynch / Brody Mihocek