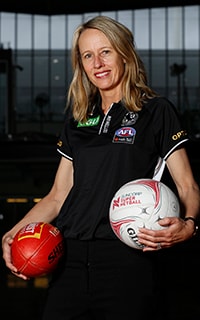 Collingwood is delighted to confirm the appointment of Jane Woodlands-Thompson to the position of General Manager of Women's Sport.
In this newly created role, Woodlands-Thompson will oversee Collingwood's netball and women's football programs across the Super Netball, Australian Netball League, AFLW and VFLW competitions.
With extensive experience in both sports, Woodlands-Thompson is uniquely positioned to lead these programs.
As the General Manager of High Performance for Netball SA between 2007 and 2015, Woodlands-Thompson also coached the Adelaide Thunderbirds to two crowns in the ANZ Championship competition.
Woodlands-Thompson is a member of the SA Football Commission and the AFL Women's Football Advisory Group and joins Collingwood from Westminster School in Adelaide, where she spent three years as Head of Sport Development and High Performance.
Woodlands-Thompson said she was looking forward to sharing in the evolution of one of Australia's oldest sports clubs.
"This position will give me the opportunity to work closely with Collingwood's elite female athletes and help them become leaders in netball and women's football," Woodlands-Thompson said.
"The women's programs at Collingwood are still in their infancy. While the foundations for a truly remarkable high performance environment are in place, the possibilities and potential for the creation of something special in Australian sport are there to be seized.
"Certainly, we want to ensure Collingwood is a destination club on and off the court and field, for athletes, coaches and high performance professionals."
Collingwood chief executive, Mark Anderson, said the creation of a role that sits across all of the women's teams and sports at Collingwood is designed to introduce greater strategic guidance and elite performance understanding.
It was also, he added, recognition for the importance of the female Collingwood teams to the club's long-term future. Recent research by Roy Morgan, for example, found that Collingwood's fan base is now evenly split between female and male, reportedly making it the first professional sports club in the country to establish this parity.
"With four women's teams now featuring within the club, we want to ensure that we leverage all of the assets that characterise a professional organisation and to embed these professional practices across and within each of our women's teams," Anderson said.
"Jane will play a key role in ensuring that we have quality high performance plans across our women's teams and that these are implemented in a way which benefits Collingwood and each of our teams.
"This is an appointment that is expected to be far-reaching and strategic, setting elite standards for today while preparing for the challenges and opportunities of a modern club. For all of these reasons Jane is a wonderful acquisition for our club."