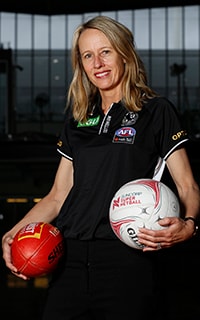 There is no one more excited about the future of women's sport at Collingwood than the newly appointed Jane Woodlands-Thompson.
In her first week as the General Manager of Women's Sport, she admits she is overjoyed to join the club at such a pioneering stage for the Magpies' netball and women's football programs.
"I'm very humbled and extremely grateful for the opportunity to work at a club with such rich history and to be a part of the women's sporting phenomenon", Woodland-Thompson told collingwoodfc.com.au.
"When the role at Collingwood came along it was a perfect fit for me with both netball and governance in that leadership space."
With an impeccable resume, it is clear she never shies away from a challenge.
She previously juggled a position as the Head of Sport Development at Westminster School in Adelaide and a role as a SANFL commissioner.
Known for her great success within Australian netball as a dual championship-winning coach at the Adelaide Thunderbirds, as well as the longest-serving coach in the former ANZ Championship, Woodlands-Thompson has also made her mark within women's football.
She says her own personal experience as a player ultimately shaped her passion to improve the pathway for young girls wanting to play football, and she hopes to assist in the set-up of more programs from further player development.
"I played footy until I could but back in those days, a long time ago, there was no pathway for girls to play the sport, so I had to stop at around 12 years old," she said.
"It's clear that the women's footy program is still in its infancy, so there's got to be a lot of education there surrounding a high-performance environment.
"Much like with our netball program, it's about getting the structures and set-up right and then providing the club with the best opportunity to win."
As Collingwood's women's football teams head into pre-season, Woodlands-Thompson says she is excited to have the chance to work alongside AFLW senior coach Wayne Siekman, his staff and the team leaders.
She acknowledges the recent changes to the AFLW team list but notes they have pointed the team in a better direction.
"We've got a young team, due to having a few senior players leave to expansion teams, which is always going to happen when the competition isn't at its full expansion in terms of maximum number of clubs", she said.
"But that has given us the opportunity to bring in some young talent that we can indoctrinate into the Collingwood way and make sure they've got the right messages and the right cultural direction."
As both the Collingwood Magpies netball team and the AFLW and VFLW teams prepare for their respective 2019 seasons, Woodlands-Thompson is excited for what the future has in store and looks forward to watching those teams make history.
"We are really looking to embedding those programs within Collingwood even though we are a new arm of the club.
"It takes time to earn our stripes, but we're intending to do that.