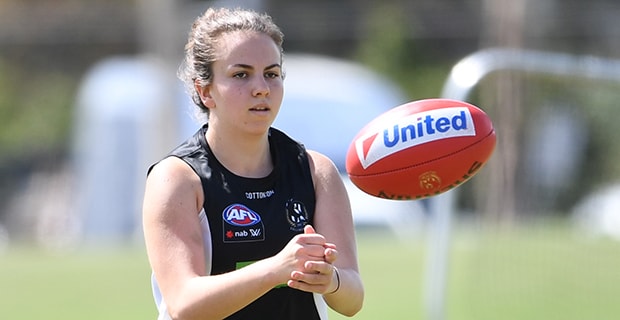 Collingwood defender Georgia Gourlay says she's still getting used to life as an AFLW player.
"It's still pretty surreal," Gourlay, who was selected by the Pies with pick 32 in October's draft, told collingwoodfc.com.au.
Having grown up a Carlton supporter, Gourlay says it was a weird feeling entering the Holden Centre, but she is rapt to call the place her new footballing home.
"You hear from an outsider point of view that the Pies have the best facilities, and they really do," she said.
"Everyone here has been amazing and really welcoming.
"It was a bit daunting coming to the club at first because there's so many big names here, but everyone's been really approachable."
But it hasn't been an easy road for the 19-year-old, who has been struck down by two knee reconstructions during her footy career so far.
At the 2015 national championships in Perth, Gourlay knew something wasn't right when she felt a sharp pain in her right knee.
However, she didn't understand the seriousness of her injury.
"I didn't really have any idea what an ACL was at the time," she said.
"When we got the scan results that confirmed the ACL, I was a bit upset but I didn't really fathom it until I came back home and had surgery.
"I didn't realise just how hard the recovery was going to be."
After nearly 12-months of rehab, Gourlay was eager to get back out on the field, only for her to suffer another ACL in her first game back the following year.
"Driving home I kept saying to my parents, 'I haven't done it again', and I didn't expect it to be that bad," Gourlay said.
"But when I got a call from the physio that night, I knew from the sound of his voice that I had done my knee again.
"It didn't really sink in until I had surgery again, but it was the toughest period of my life because you do all that work for it to go down the drain.
"To watch the girls win the championships in Melbourne on the MCG by 95-points, that was really hard."
Given her Year 12 commitments, and a diagnosis of tendinitis, Gourlay was ruled out of the 2017 season.
"It was a big mental barrier for me to overcome because it caused a lot of anxiety, and that was a big determinant for when I came back to footy," she said.
"But looking back on it now, it was a big blessing in disguise.
"It was horrible to go through, and I have missed a fair bit of development in comparison to players like Jordy, Darcy and Holly.
"But things like that make you the player that you are, because once you've been hit with a setback you value footy that bit more."
Gourlay's confidence was restored when she was signed to the Casey Demons for this year's VFLW season alongside fellow Collingwood draftees Jordan Allen and Maddie Shevlin.
"The preparation Casey put into me from the moment I got there to coming back to footy was unbelievable, and they really put me in good stead to get drafted," she said.
Georgia Gourlay playing for the Casey Demons in 2018 (AFL Photos)
Gourlay is excited to see what the 2019 season has in store for the Magpies, and she is hoping the coming months will include her AFLW debut.
"I'm really looking forward to the experience and have already enjoyed the last couple of months, which have been amazing," she smiled.
"It's important to build good relationships with all of the girls and just keep pushing one another both physically and mentally."