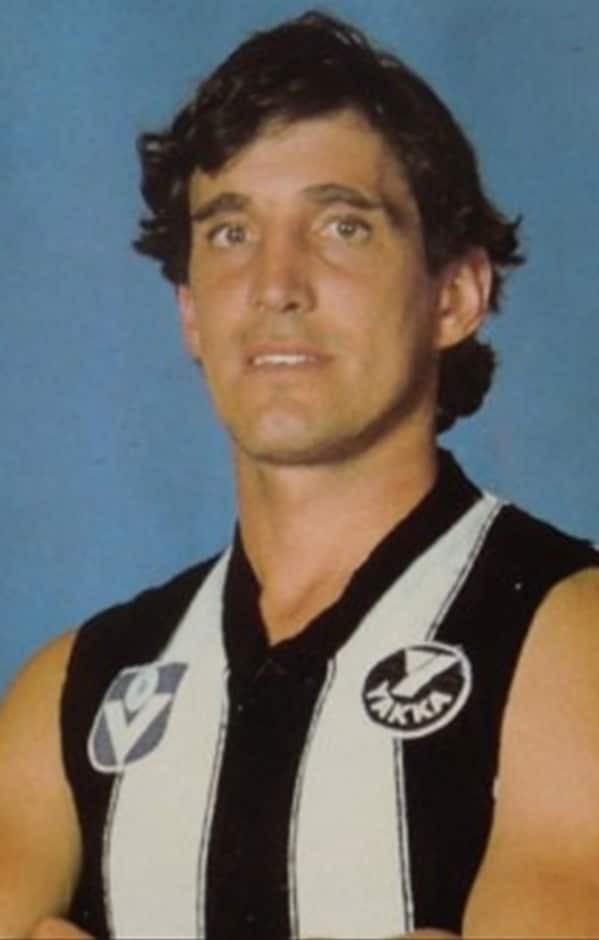 It was the decade where football took its first faint steps towards professionalism.
Players chased a greater financial return, Waverley rose from the paddocks, colour television beamed into our living rooms for the first time and the game endured through a turbulent decade.
The 'Sensational Seventies, as they would become known, proved a tantalising, yet ultimately unfulfilled period for Collingwood.
It was bookended by heartbreaking Grand Final losses to Carlton. The first came when the Magpies lost from what had previously been considered an unlosable situation; the second when Collingwood almost pinched the premiership in the dying moments of a dour struggle.
Through it all, the goings on at Collingwood – and at Victoria Park - was like a soap opera you couldn't switch off, and the audience was spellbound.
For those who lived through it, it was a period they will never forget and it produced heroes and characters alike forever etched into our consciousness.
For those who didn't,Collingwood Forever will transport you back in time each week this season for a blast from the '70s past, profiling a player who made an impact for one reason or another.
Only seven men have kicked 80 or more goals for Collingwood in a VFL-AFL season.
The list is a veritable roll call of the Magpies' greatest goalkickers across the club's history - Gordon Coventry, Peter McKenna, Peter Daicos, Ron Todd, Brian Taylor, Saverio Rocca and ... Craig Davis.
If that last name jars a little, it shouldn't.
Sure, Davis wasn't as dominant for the Magpies for an extended period of time, nor was he feted or revered as the others, as he never quite reached their lofty heights.
But Davis, known as 'Boof' or 'Ocker' to his teammates and many friends, produced one of the great individual seasons for a Magpie forward - all in the first of his five seasons in black and white.
It came in 1979 - the last year of the 1970s - and if it hadn't been for one inexplicably inaccurate afternoon during the finals, he might well have pipped Kelvin Templeton for the Coleman Medal.
Small for his position as a full-forward, but a good mark, a mobile mover and an exceptional kick, Davis kicked 88.39 from his 26 games in 1979, including four goals from his team's 11 majors in a losing Grand Final.
He would end up playing 102 games for the Magpies from 1979 to 1983, and kick 251 goals, for what was the third of his four VFL clubs of his career.
Davis had the pedigree to be a football star almost from the outset, despite hailing from the tiny township of Ross, in Tasmania. His father, Bob 'Boofa' Davis, was a star with Ross and Launceston, as were his uncles Darrel, Kevin and Neville Crosswell.
He played senior football with Launceston as a 17-year-old, and was gaining plenty of attention from mainland clubs.
As a cousin of Carlton Brent Crosswell, Davis recounted in a radio interview last year how he had watched his cousin play in the 1972 Grand Final, and dared to dream of what he could achieve.
"In 1972 I was watching my cousin Brent Crosswell play in a Grand Final for Carlton and I said to my Dad, 'I think I am good enough to do that'," Davis recounted.
"He said 'You better go home and train', which I did. And 12 months later, as an 18-year-old, I ran out in front of 116,000 fans, playing for Carlton."
That Grand Final, which the Blues lost, was his fifth game, and while he was held goalless in the game, he had kicked four goals against Collingwood in a semi-final. It was a big year for him, as he had also finished second in the Blues' reserves best-and-fairest count.
His next two seasons produced 37 games for another 63 goals before his career was almost curtailed by a freak incident in the 1976 preseason.
Davis injured himself in a marking duel when one of his opponent's knees collided with his head and when he was told he had deformed blood platelets, doctors advised him to retire from the game, fearful another knock could have far more serious consequences.
He missed the entire 1976 season, and was delisted by the Blues, only to have his career resurrected by North Melbourne, where Crosswell had also shifted to.
He only played two games across two seasons for the Kangaroos, but two of them came in the 1977 finals series - the qualifying final against Hawthorn and the semi-final against Richmond. He kicked four goals in his last game for North Melbourne.
Collingwood was on the lookout for forwards, particularly established talent, following the 1978 season, and Davis fit the bill perfectly, teaming with coach tom Hafey, a partnership that would develop into a firm friendship.
The rewards came immediately.
Wearing the No.19 jumper, he only kicked one goal in his first game, but followed it up with seven majors against Hawthorn the following week. He would kick two bags of eight goals that year and failed to kick a major only in the 1979 qualifying final against his old side North Melbourne.
That day he kicked 0.7, and would explain later on Blueseum, "My kicking that day was atrocious ... I kicked seven behinds straight. If I had kicked straight, I might have won that year's VFL Goalkicking award, because Footscray's Kelvin Templeton finished the season with 91, and I kicked 88."
One of Davis' best efforts came in the Grand Final when he kicked more than a third of the Magpies' majors (four goals from 11).
In all, he would play in three losing Grand Finals for Collingwood (1979, 1980-81), to add to the one that he missed also with Carlton in 1973.
"It was tough, I lost that 1979 Grand Final by a kick, then we got belted in 1980, and we lost 1981 after being in front at three-quarter-time," he said.
Davis was a courageous player who also possessed strong judgement when going for a mark, and was usually an extremely accurate kick for goal.
He loved his time at Collingwood. "It was tribalism, and there was no more tribal team than Collingwood."
He kicked 52 goals from his 25 games in 1980, including two in the Grand Final thrashing to Richmond, and then 55 from 23 games the following year, but failed to kick a goal against Carlton in the 1981 premiership playoff.
His final two seasons with Collingwood didn't quite have the same impact, and when he hurt his knee late in the 1983 season his career looked over.
In all, he kicked 251 goals for the Magpies, and became a fan favourite for his goalkicking and for his ability to give his all whenever he took the field.
Moving to Sydney, he worked in a number of different roles in administration and coaching, and was Hafey's right hand man at times when he coached the Swans. That led him to make an extraordinary comeback in 1988, playing nine games and kicking 17 goals before finally calling an end to his career.
Davis finished on a total of 163 VFL games for his four clubs for 360 goals in a strong career that sadly didn't see him win the ultimate team prize.
In his last year at Collingwood he coaxed one of his young sons, Nick, with some chocolate to be in a newspaper photo with a Collingwood jumper that the club was sending to a newborn Prince William.
Nick would get the chance to wear the black and white in his own right. As a father-son selection, he played 71 games and kicked 85 goals for the Magpies, including in the club's 2002 losing Grand Final side.
He moved back to Sydney the next year, and was one of the catalysts behind the Swans' drought-breaking 2005 premiership side (having rescued them with four goals in a semi-final against Geelong), to win the premiership medal that had eluded his dad.
Craig Davis couldn't have been happier for his son.