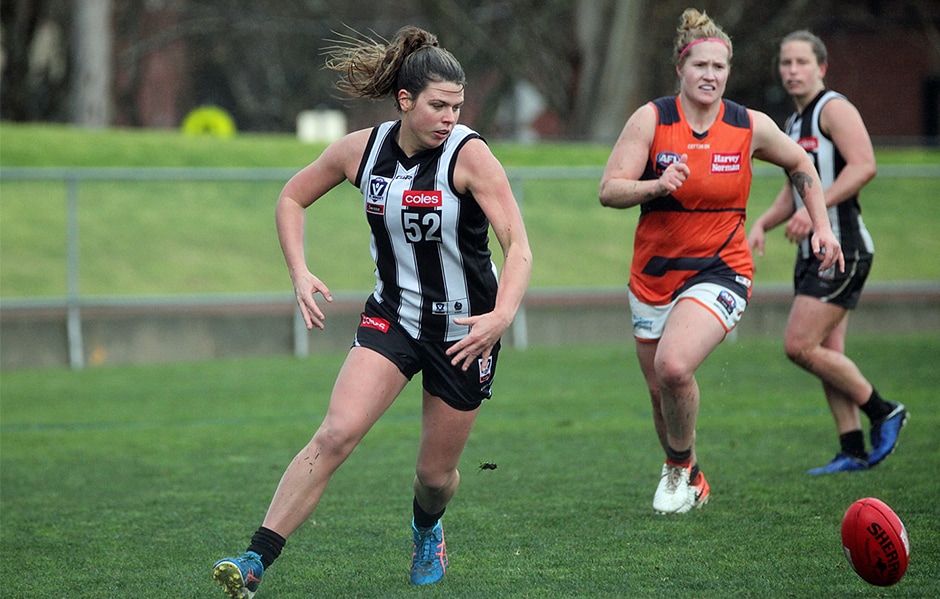 For Nicole Hales, Collingwood is not just the team she grew up supporting. The club holds a very special place in her heart.
Having grown up hearing the stories of her grandfather, Brian Sullivan, running out in the black and white, Hales is proud she too can now say she wears those same colours.
Having signed with the Pies' under 19s side at just 16-years-old, Sullivan was a member of the club's 1959 runner-up team and its 1960 premiership side.
"It's awesome to hear that he achieved such success at the club," Hales told collingwoodfc.com.au.
"To now play for the same club as a family member is truly something special and I'm really proud to be following in his footsteps."
Since putting the boots away, Sullivan has remained an avid Collingwood supporter.
Nowadays, you'll find him sitting in the Sherrin Stand at Victoria Park as he cheers on his granddaughter and the rest of the VFLW Magpies, something Hales says she will treasure forever.
"It's great to see him in the crowd," she said.
"Now I can say I've played on Vic Park, which he grew up playing on, and it's pretty cool to be carrying that on through the generations."
Having previously played footy for Greensborough and Diamond Creek in her youth, Hales put the sport aside as she headed off to America for two years.
But after watching the first season of the AFLW, her passion for the game was reignited. So she headed home to Melbourne and thought she'd give footy another shot.
When she heard Collingwood were trialling for its inaugural VFLW side, Hales thought it was too good an opportunity to refuse.
"Growing up supporting Collingwood, I was excited just to be given the opportunity to try out let alone to actually be picked."
Two seasons down the track, the 24-year-old has more than impressed and she isn't looking back.
Hales took to the field for a total of 15 games (the most for the team) in her debut season last year and also finished second in the best and fairest.
She's enjoying a similarly successful 2019 season, having run out for all 12 of the Pies' games so far, averaging nine disposals and five kicks per match. She was even given the opportunity to join the AFLW side for an invitational match last weekend.
"It was really exciting to play most of the games last season and I'm truly honoured to be given the opportunity to represent the Pies every time I run out in the black and white.
"It's a goal for me to play every game possible. Each week I just try and focus on what I need to do to be named in the side."
Despite having never played down back before arriving at the Holden Centre, Hales has established herself as a prominent defender who's known for her impressive intercept marks and her ability to read the flight of the ball.
But this season she's rolled into the midfield where she even managed a goal in the Pies' round 13 victory over Carlton.
"It's nice to be free and it's been a good experience that has boosted my confidence when I've made a return to backline.
"Having to be more attacking and actually go get the ball is challenging because you have to work harder but I've been happy to take that on."
A determined Hales now says she's prepared to tackle the next level, AFLW.
"I was a little bit disappointed to not be drafted last year but I feel like I'm now ready and I'm prepared to put in everything that is need to make it at a higher level.
"I know I can still develop and grow as a player and I want to prove to myself that I can make it."
Although she knows that by entering the AFLW draft she could end up at any club, Hales says it would be the ultimate fairy tale to be drafted to the Pies.
"It would honestly be the topping on the cake and it would mean so much to me and my family."