Collingwood has yet to decide on a sanction for midfielder Brayden Sier after he was caught out playing a local basketball game while injured and then lying to the club about it.
Sier played about 20 minutes of a Diamond Valley Basketball Association division three match under an assumed name in Greensborough on Monday night.
The 21-year-old, who will be sidelined for a fourth game with a calf injury, used the pseudonym "Phill Inn" on the teamsheet in an effort to conceal his identity.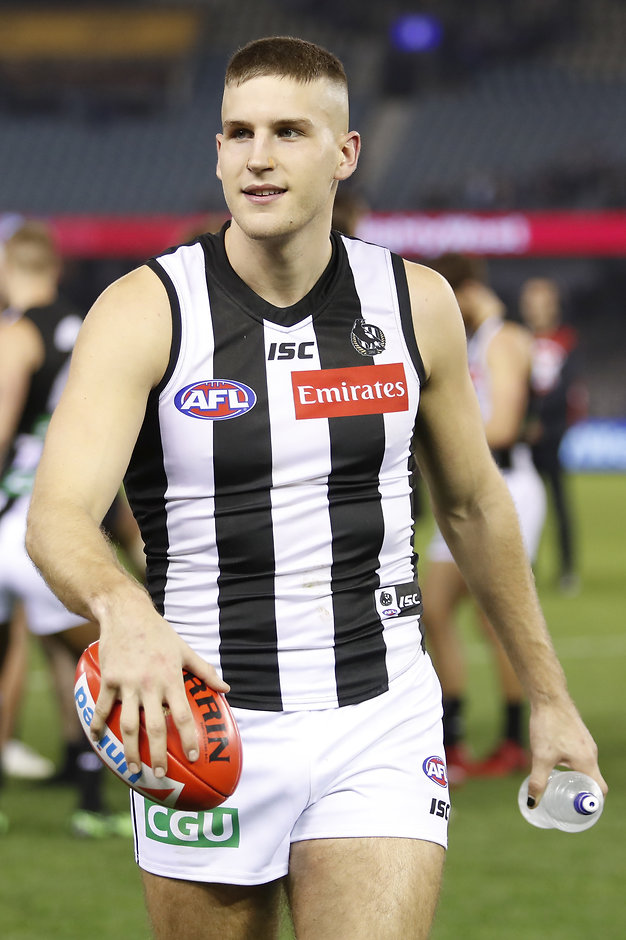 Compounding matters, Sier then told the club he had simply been watching friends play and had been shooting hoops during breaks.
Magpies football manager Geoff Walsh will consider the issue and any punishment, in consultation with coach Nathan Buckley and the leadership group, sometime after the finals-bound Pies play their important twilight game against Adelaide at Adelaide Oval on Saturday.
A disappointed Buckley acknowledged Sier had blundered on two fronts.
"(It was) a blue from a young player (who) made a couple of errors in the whole situation – one, to play the game (of basketball) and, two, to try to sweep it under the carpet," Buckley told reporters on Thursday.
"We'll deal with that accordingly and appropriately, but we've got a game to prepare for on Saturday, which he won't be a part of. Our VFL (team) don't play this week so we've got a bit of time to sort that out."
Buckley said he could understand the "human" element of why Sier tried to cover up his basketball appearance, but added: "The integrity of how we communicate to each other is more important than anything external."
Sier was a revelation last year when he played 12 games, including four finals, but he has managed just six appearances games this year in an underwhelming, niggle-riddled follow-up.
The big-bodied onballer completed his first full session for a month on Thursday after a bout of illness last week that prevented him from training fully.
"We would anticipate that he will be available and we will be asking him to do everything possible to be involved in our campaign, whether it's helping to prepare the senior squad or being a part of it," Buckley said.
However, the Pies coach suggested Sier had potentially jeopardised an opportunity to play finals.
"It's common sense, I suppose, which is not always so common," Buckley said of the protocols players must follow relating to off-field activities.
"I think there is things on contracts around anything that could injure yourself or anything that could put yourself in danger.
"In the end, we are all hands on deck in here and everyone is fully focused on the next six weeks. These opportunities don't come around all the time, and time just continues to go past you and opportunities don't always present. You've got to make the most of them when you're in them."
Earlier, Pies veteran Levi Greenwood was adamant an injured player shouldn't be playing basketball.
"I was just looking on the AFL site this morning (and) I'm like, 'Is there anything I need to know before going on (radio)?" Greenwood said on SEN SA.
"I was like, 'Get out, there's no way'. I read into it and I'm like, 'Mate, are you serious?'
"I haven't spoken to him, I've heard nothing about it, I've just read the article but if it's true – I'd hate for it to be true – it'd be quite disappointing if it was.
"We need players right now and if they're out injured they should not be playing basketball full stop or doing anything that will prolong their injury.
"I'd say if it was true, the powers that be will be having their say about it."
In better news for the Woods, young runner Josh Daicos has overcome the bout of concussion he suffered in the win over Melbourne and trained strongly on Wednesday.
With two rounds left, fifth-placed Collingwood can still sneak into the top four, but can also drop as low as sixth. Buckley said the Pies would adopt a "whatever-it-takes mentality" to their encounter with the ninth-placed Crows.
Speedster John Noble, the club's mid-season recruit who made his debut in the round 17 win over West Coast before suffering a corked calf, is a chance to be promoted after "some really good footy" in the VFL.
With hamstrung stars Jordan De Goey and Darcy Moore to press their cases to return in the final-round clash with Essendon, there is an argument that the Pies would be better served holding them back until their first final, which would give the pair an extra fortnight to prepare. But Buckley dismissed that view.
"No, we want to win every game we play and I think we need to, to give ourselves the best chance of finishing top four," he said.
"So, if we have players available, we play them."