When Brodie Grundy arrived at Collingwood in late 2012, Anthony Rocca sensed that the slender ruck prospect was a young man in a hurry.
The then-18-year-old wanted to be the No. 1 ruckman in the AFL, but he wasn't keen on achieving his goal by gradually improving over a number of years.
He wanted to be the best straight away.
"He was in the gym a lot more than he should've been," Rocca, who is these days the Magpies' ruck coach and has formed a strong bond with Grundy, said in an interview with Collingwood Media on Thursday.
"There were times when we had to sit him down and say, 'There's a process to way we do things and we don't want to burn you out.'
"It took a while for him to register that, so we had to hold him back."
Five and half years down the track, Grundy now finds himself on the cusp of achieving his goal.
So dominant was his performance against Sam Jacobs in the Pies' big win over Adelaide in round four, he is suddenly being hailed by many seasoned pundits as the best ruckman in the competition.
Not that Rocca is letting him get carried away.
"We watched the Adelaide game together," Rocca said. "It was an outstanding game, but we found at least 10 things that he could've done better.
"We're never getting too far ahead of ourselves."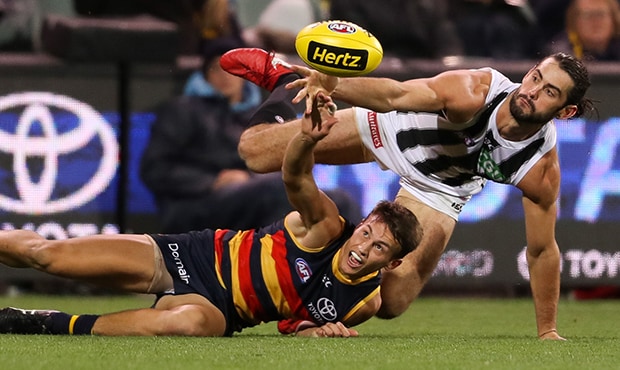 Brodie Grundy was in everything in the air and on the ground in the win over the Crows (AFL Photos)
Grundy grew up in Adelaide and was committed to basketball during his early teenage years.
But he quickly came to the attention of many AFL recruiters after deciding to give footy a go in his mid-teens, and he was selected by Collingwood with pick 18 in the 2012 national draft.
He overcame a back problem to play seven AFL games (wearing number 35) in his first season with the Magpies, winning a Rising Star nomination along the way.
Grundy switched to number four in 2014 and played 15 games, then cemented himself as Collingwood's number one ruckman during the 2015 and '16 seasons.
"Brodie's had really good growth from year to year," Rocca said. "He's got better and better and I thought last season was his best until now."
Following a pre-season in which he worked particularly hard on improving his endurance, Grundy, like most of his teammates, endured a disappointing start to this year's home and away campaign.
The 23-year-old managed 28 hit-outs in the loss to Hawthorn but only 12 disposals and was far from satisfied with his effort.
A whole host of factors, including a frank chat with Rocca after the loss to the Hawks, have helped turn him into a dominant force in the three games since then.
"We spoke about how his career could stagnate or he could go to the next level," Rocca recalled.
Rocca's ability to have direct and honest conversations with Grundy has been made possible by the friendship the two have developed in recent years.
"He lives down the road from me and he loves popping around at five o'clock to see what we're having for dinner," Rocca said with a chuckle.
"Tim Broomhead lives with him, and every now and then you hear a car pull up in the driveway and you think, 'Okay, I know what's going on here.'
"But it's great. We love having them around."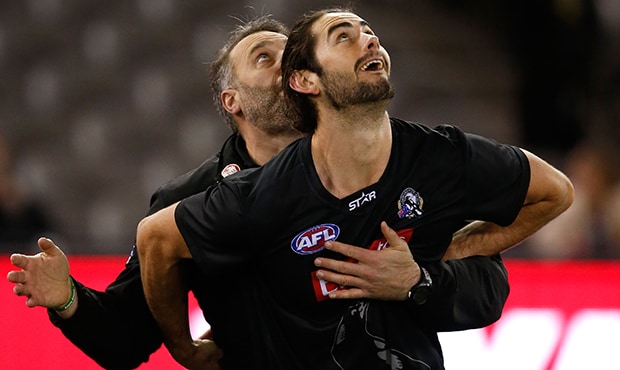 Brodie Grundy and Anthony Rocca during the warm-up before a clash with the Western Bulldogs in 2015 (AFL Photos)
Grundy's past three games have been eye-catching to say the least.
He almost hauled the Magpies over the line against Greater Western Sydney at the MCG in round two.
That afternoon he tallied 20 disposals, 45 hit-outs and two goals and he later received seven votes in the AFL Coaches' Association Champion Player of the Year award for his effort.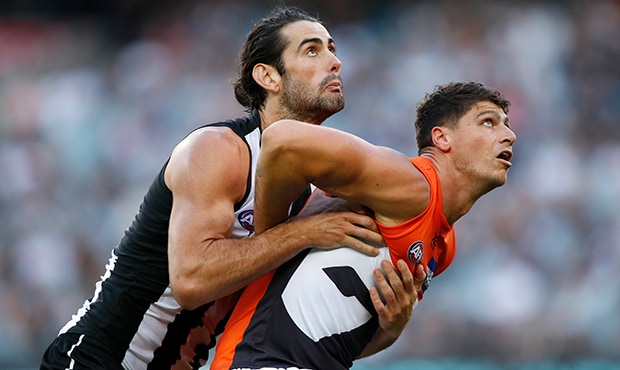 Brodie Grundy competes with Jonathon Patton during the round two loss to the Giants (AFL Photos)
In round three, he ran riot against Carlton, racking up 25 disposals, 32 hit-outs and an impressive eight tackles.
Then came the defining performance of his career to date. He finished the win over Adelaide with 33 disposals, 40 hit-outs and a brilliant running goal, an effort that prompted the following tweet from one of Channel 7's renowned stats gurus.
Ruckmen to have 30+ disposals, 40+ hitouts and kick a goal in a game
1980 Gary Dempsey v FOOTS
2018 BRODIE GRUNDY v ADEL
@CollingwoodFC #AFLCrowsPies @AFL

— Swamp (@sirswampthing) April 13, 2018
Grundy's effort against the Crows won him more plaudits, more coaches' votes (he is third on the overall leaderboard, just three votes behind Hawthorn dynamo Tom Mitchell) and a few mentions among early tips for the Brownlow Medal.
His performance also added to weight of opinion that ruckmen, so often spoken about and written about as being on the cusp of going the same way as the dinosaurs, are back in vogue.
"I've never thought there was no use for a ruckman," Rocca said. "I reckon what they do is so valuable.
"The thing about modern ruckmen is that they need to be like midfielders.
"Someone like Brodie needs to have that old-fashioned ruck craft but also cover the ground like a midfielder. It's a huge challenge."
Another big challenge for Grundy will be trying to stay at the top of his game through the marathon that is the AFL season.
His next big test will present itself when he comes up against Tom Bellchambers in the ANZAC Day game against Essendon on Wednesday.
"Bellchambers might not have the reputation of Sandilands or Naitanui or Jacobs, but he's bloody competitive," Rocca said. "But Brodie loves those challenges."
Thinking long-term, however, Rocca has no doubt Grundy's effort against the Crows will turn out to be only a stepping stone along a path towards even greater performances.
"He wants to improve all the time," Rocca said. "He's got a real willingness to better himself and the team.
"But the room for improvement is massive. His ruck craft, his ability to hit the ball to advantage, can still get a lot better.
"He's got so much more to give."