DOB: N/A
Disability: Paraplegic – Car accident
Position: Forward/Defence
Experience:
Coach/Captain Collingwood WFC 2018 (current)
Coach/Captain 2018 Premiership team 2018
Sports played:
Aust rep wheelchair basketball & tennis
Victorian Women's Wheelchair National basketball league coach - 3 years
National wheelchair footy coach 3 years
Played for Dandenong rangers national basketball league for over 10 years.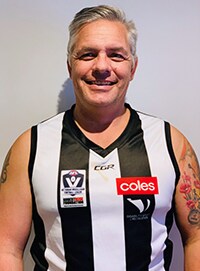 DOB: 27/02/1973
Position: Back/Forward
Disability: Bilateral knee replacements/Osteoarthritis PTSD hearing loss.
Sports: Wheelchair AFL representative RSL Victoria Active VC 2019. 2017/18. Collingwood FC wheelchair 2018 premiership player.
Background: Served 13 years in the ADF tours East Timor Afghanistan position Operator Supply. Injuries from service.
.
.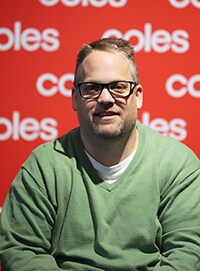 DOB: 29/04/1978
Position: Forward
Disability: Paraplegic, injured 21 years ago
Sports played:
Able-bodied footy - Taylors Lakes
Cricket
Golf
First year of VWFL, Drafted into Collingwood as a reserve for future - VWFL is the first sport he has played since.
DOB: 30/07/1974
Position: Defender
Recruited from: Hawthorn
Sports played:
Able bodied handball (goalkeeper)
Boxing
Wheelchair basketball
Wheelchair handball
WAFL
.
.
.
DOB: N/A
Recruited from: Richmond, League top season goal scorer
Position: Forward/Centre
Disability: N/A - Able bodied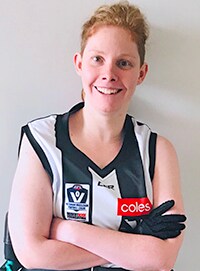 DOB: 26/04/1992
Position: Forward
Disability: Cerebral Palsy
Sports played: Local competition wheelchair basketball
Experience: New to wheelchair AFL, drafted to Collingwood's reserve team to gain experience for the future.
.
.
.
.
.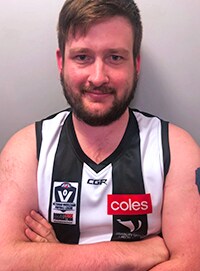 DOB: 24/04/1993
Recruited from: Essendon
Position: Centre/Back
Disability: Spinocerraballa Degeneration
Sports played:
Junior Team: Werribee/WRFL Team
Wheelchair Basketball
Wheelchair Rugby
Wheelchair Handball
Wheelchair Tennis
Able bodied footy
Melbourne Sports (supported)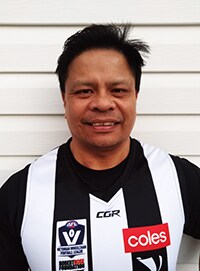 DOB: 02/03/1969
Position: Utility
Disability: Above-knee amputee, Osteosarcoma (1979), cancer of the bone
Experience: New to Wheelchair AFL
Sports played:
Able body basketball for 27 years
Australian Rep Para Powerlifting for 6 years
.
DOB: 6/6/1990
Disability: Spina bifida
Experience:
Picked up in the midseason draft for Collingwood and will fit right into the team with his vast experience
Played wheelchair sports since 2004
3 times medallist at wheelchair AFL nationals representing Tasmania
Represented Australia in wheelchair tennis in 2008 at world team cup
Played in the national wheelchair basketball league for Dandenong Rangers and Sydney Uni Wheelkings.