Paul Robinson is one of the men behind the cult social media channels 'The Carlton Draft' and 'The Ressies Footballer'.

His Black and White passion is unquestionable, and the views represented in this article are solely his own and not representative of the Collingwood Football Club.

Can we even get excited about beating Geelong anymore?

Don't get me wrong… A great win, one of our best under Nathan Buckley all things considered. But it's just so ho-hum beating Geelong nowadays, isn't it? It always follows the same script. We go in underdogs, we play hard, tough footy, they play the opposite of hard, tough footy and we win. It's very repetitive and predictable. I feel sorrier for the country bumpkins down the highway than I normally do.

There is one team I will never feel sorry for and never grow tired of beating.

The enemy.
The dark side.
The filth.
The sporting organization version of Johnny Lawrence (bad guy from Karate Kid) … Carlton.

I hate them, and if you follow Collingwood, you should too.

They are the anti-Magpies. We're good and they're evil. It's that simple.

Did you know dictator Muammar Gaddafi was a 20-plus year Carlton member? That says it all. Guess who else proudly attends Carlton home games? That's right. You guessed it…

Nickelback.

I really hate Carlton.

The Blues are like that itch in the back of your throat that won't ever go away… If the itch in the back of your throat was a burning fire that had cheated you out of (what feels like) a hundred premierships.

It's disturbing to know they've beaten us in five out of the six Grand Finals we've played against them. For those wondering, our 1910 premiership victory isn't uploaded on YouTube. Believe me, I've searched long and hard.

It's crazy to think that Carlton were once successful enough to play us in the big dance. Ugh. That means they would often win games on a regular basis?!

I shudder thinking about it.

Luckily for not only Collingwood supporters, but the AFL community, the 2000s have been a bright, exciting new era in which the Blues have taken up the hobby of collecting wooden spoons.

So accustomed they are to losing, that I'm more confident than midfielders waiting for Brodie Grundy hit-out that on Saturday night we'll be watching Pendles and Bucks bring the 'Trent Hotton Pewter Mug' back to Holden Centre.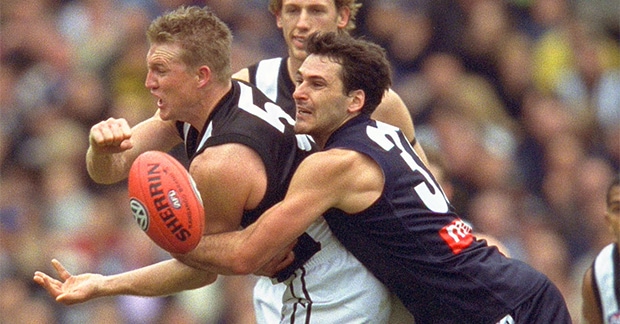 Trent Hotton traded his Black and White for navy blue in 2000, and was unfortunate enough to be opposing Nathan Buckley in the years following. Picture: AFL Photos.

Of course the coveted trophy is named after future AFL Hall of Famer Trent Hotton, who was famously sacked by Tony Shaw in 1997 after rocking up drunk to training. The 'Hotto Mug' is one of the more important awards you can win in AFL.

*Bucks, please add more emphasis on this part here when you read this to the boys pre-game* There are two games you must win as a Collingwood footballer… Carlton at home and Carlton away! Don't let this smug footy club gain anything this week! Make the AFL enforce a mercy rule on this game and absolutely pulverize them on the scoreboard!

If there is anyone out there wondering, I hate Carlton.

Even after we embarrass them this weekend on our 125th anniversary (I've made a black and white cake for the occasion), I won't be feeling any empathy.

#FazzyBoy is back and I'm predicting a 3-10-20 (goals, marks, disposals) from the Prince of Perth this weekend. Also expect Lynden Dunn to go from strength to strength and build on his shut-down role of Tom Hawkins last week. Prepare yourself Levi Casboult. Your career is about to be Dunn.

I like Carlton as much as I like coriander on my plate… and I hate coriander.

MORE:

'Everything in my life is Collingwood'

'Our stereotypical snot-nosed brother'

'Magpies or Mighty Ducks? Our Sydney mission'

'The man robbed of the 2010 Norm Smith'

'The ANZAC Day that started in tears'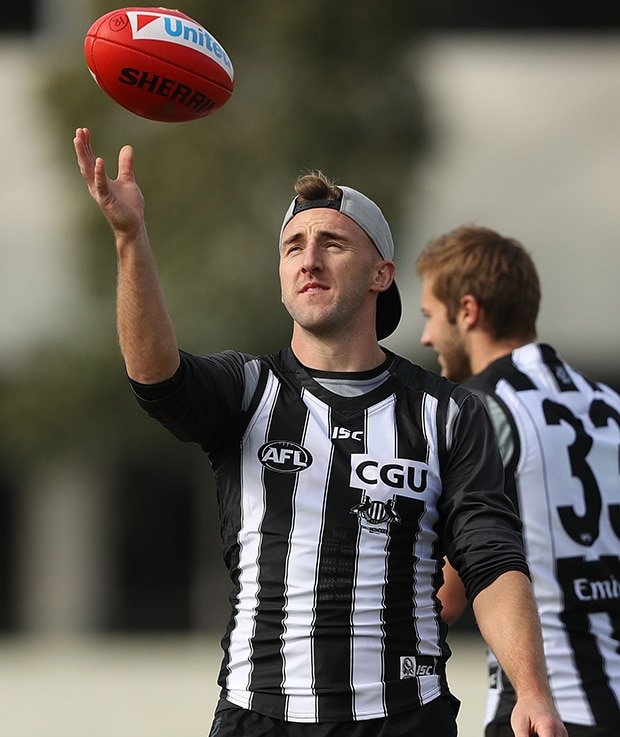 Lynden Dunn may turn to Levi Casboult this week after an outstanding shut-down job on Tom Hawkins last week. Picture: AFL Photos.