With extra-time finals the flavour of the month, thanks to Luke Shuey's heroics for West Coast against Port Adelaide last Saturday, it's the perfect time to relive Collingwood's thrilling win over West Coast in the 2007 Semi-Final.

The Herald Sun's Glenn McFarlane revisits the night the underdogs came out on top in the west.

'The sky's the limit'
September 14, 2007
Semi-Final, Subiaco
Draw: Collingwood 10.12 (72) drew with West Coast 10.12 (72)
Extra time: Collingwood 13.15 (93) d West Coast 10.14 (74)

For only the second time in history, extra time was required to decide a final in what was one of the most remarkable finals in recent memory.

Twenty-seven years on from the first finals draw between these two sides, which changed the rules in terms of extra time, and 23 years on from the first extra time final played between North Melbourne and Hawthorn in 1994, this was a night of high drama at Subiaco.

Collingwood was not given a lot of hope in taking on and beating the reigning premier on its own patch for this Second Semi-Final, but Mick Malthouse insisted pre-game that his team was more than capable of bringing about an upset victory.

It did. But it was much harder and much more dramatic than anyone could have envisaged.

There was drama even before the game started with Josh Fraser and Beau Waters being late withdrawals from their respective sides, while David Wirrpanda injured himself in the warm-up.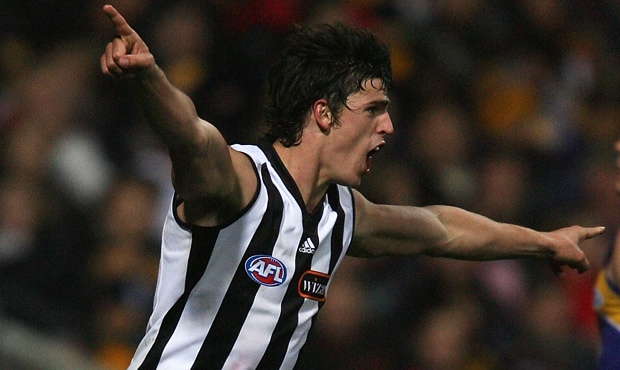 Scott Pendlebury celebrates after kicking the sealer against West Coast in the 2007 Semi-Final.

All eyes were on Nathan Buckley, in what would prove to be his penultimate game for Collingwood. Having battled hamstring issues in the latter stages of his career, it was a huge achievement for the skipper to even be out there that night.

Collingwood brought about the first goal-less first term for West Coast on their home ground and even carried a seven-point lead into quarter-time. But by half-time, the Eagles had wrested back the lead, carrying a three-point break into the long interval.

Many thought that would be the end of the Magpie resistance and that's the way it looked for a time.

West Coast opened up a 21-point lead during the third term and what was a brave Collingwood effort looked like ending in a defeat for a time.

But a couple of things changed all that.

For a start, Eagles coach John Worsfold gave ruckman Dean Cox and defender Darren Glass a critical rest late in the third term, which Malthouse said proved to be "a highly significant" move. As the two sat on the bench, Collingwood kicked three late goals, two of them to Glass' opponent, Anthony Rocca.

The other thing was this Collingwood team never knew when to give in. They kept coming and coming.

In the frantic last term a long goal to Matt Rosa at the 23-minute-mark made it tough before Dale Thomas answered with one of his own. Then a behind to Andrew Embley levelled the scores with less than two minutes left.

The siren brought about five minutes either end with the winner set to gain passage to play Geelong in a Preliminary Final. And it was clearly Collingwood who proved to be the fitter side, booting three "extra time" goals to nil - through Chris Bryan, Dane Swan and Scott Pendlebury.

Malthouse said after the match: "The sky's the limit for this side." Alan Didak summed it up: "We came over as underdogs, no one gave us a chance and we got up and won."

But the Magpies went home in style, flying on $50,000 private charter at low altitude with reduced cabin pressure - all aimed at having the players primed and ready to take on Geelong in what would prove to be another dramatic final a week later.