Collingwood forwards Jamie Elliott and Alex Fasolo remain on track to be fit for the start of the season, with the Magpies hopeful both players will be available for selection in round one.

Elliott and Fasolo are still in rehab and began their post-Christmas pre-season training programs at Olympic Park Oval on Wednesday.

Elliott, who had surgery on his troublesome left ankle in November, made an appearance on the training track, completing some stationary kicking, but has not yet been cleared to start running.

Magpies assistant coach Brenton Sanderson told AFL Media that Elliott would ramp up his intensity over the coming weeks, with the hope he will be able to join full training later this month or early in February.

"Jamie's really confident that he's going to start the season off really well, even with doing hardly anything before Christmas," Sanderson said.

"I still think he's a realistic chance for round one and to play well early in the season because of his raw athleticism.

"We'd be quite optimistic that he'd start the year off really well."

Elliott has already been ruled out of the club's AFLX campaign in Adelaide on February 15, but there's a chance he may feature in the JLT Community Series if his body allows him to.

"All those things you can't look too far ahead. Guys accelerate through a rehab program, others have a few setbacks along the way," Sanderson said of Elliott's progress.

"It's impossible to put a definitive date on it but we're confident and he's confident that we'll see the best of him in 2018."

Elliott missed six games with the ankle injury he carried through 2017 and did not play a game the previous year due to a chronic back complaint.

Fasolo underwent shoulder surgery after injuring himself in a training mishap in December.

Given the nature of his injury, the dynamic forward is able to run but has been held out of any contact-based training for the time being.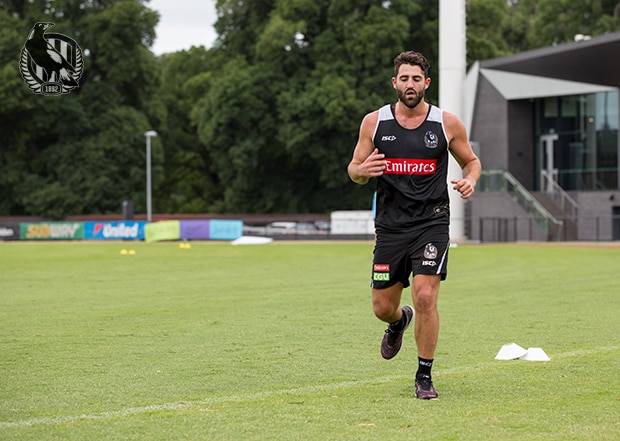 Alex Fasolo runs during Monday's training session at the Holden Centre. Image: Collingwood Media.

Fasolo had a program of repeat effort running on Wednesday and, like Elliott, it's unlikely he will play much during the pre-season.

"With his shoulder, he can get a ton of running in so fitness won't be an issue," Sanderson said.

"It'll just be the confidence of tackling and getting hit while he's in marking contests and things like that.

"It's hard to put a definitive date on when he'll return, but I still think we'll see him back to his best form in early 2018."

Elliott and Fasolo combined for 63 goals in 2017, placing first and second on Collingwood's goal-kicking table, and the club needs both firing if it is to make a significant mark on 2018.

Meanwhile, Ben Reid and Darcy Moore are set to trade places in 2018.

As has been flagged recently, Reid has spent time training with the forwards and is likely to be used predominantly in attack in 2018.

Moore, who kicked 25 goals in 21 games last season, will be shifted to defence on a more regular basis after displaying his impressive athletic attributes behind the ball in the Magpies' 16-point win over Melbourne in round 23 last year.

"The way the whole industry is going is that we're seeing guys swinging from end to end, and we saw nine games of Ben Reid forward for us last year and he looked really good," Sanderson said.

"We know he's a great defender as well so we might see him at both ends."

"With Darcy Moore, he's only young in his football development, he's doing a little bit of training with the defensive group this year and hopefully he might be a little bit of a surprise packet for us."

The Magpies open their home and away season against Hawthorn on March 24.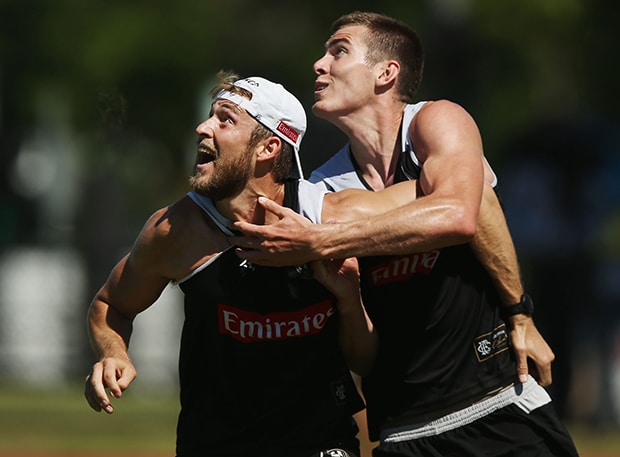 Ben Reid jostles for position with Mason Cox. Image: AFL Photos.