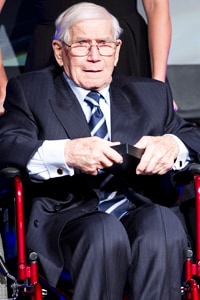 The Collingwood Football Club is deeply saddened by the passing today of one of its most revered figures, Ron Richards.

The 1953 premiership star, who went on to serve the club as a coach, match committee chairman and director, lost an extended battle with illness in the early hours of this morning. He was 85 years of age.

Collingwood president Eddie McGuire described Richards as a Magpie royal, a man who was able to step out from the considerable shadow of his celebrated older brother, Lou, by helping to guide Collingwood for decades.

"In the rich history of the Collingwood Football Club, Ron Richards will always be known as one of its greatest servants," McGuire said.

"Ron was a member of the Pannam/Richards dynasty, which collectively produced more matches than any other in the game's history and dates back to 1894, through Charlie Pannam Sr.  (In all the extended Richards family played in 930 games, kicked 1125 goals and were part of eight premierships.)

"Ron distinguished himself in everything he did at Collingwood, be it as a star of the 1953 grand final who had been picked out by Jock McHale for an unaccustomed role on the wing, coach or administrator. Ron was best on ground in the flag triumph, helping his brother Lou, who was captain, to lift the premiership cup.

"Later, as Lou moved into the world of show business and the media, Ron dedicated himself to Collingwood, something he cared for deeply. He served as a thirds and seconds coach. He spent time on the board and he sat by the side of Tom Hafey and Leigh Matthews as chairman of selectors.

"In any discussion of great Collingwood men, Ron Richards – Collingwood life member, AFL life member, legend and premiership star – cannot be overlooked.

"To his family, especially his wife Glenys, we offer our condolences. A wonderful man has been lost and the support of his beloved Collingwood will be sorely missed."

Murray Weideman, at 17 years of age one of the youngest players on the field in the 1953 grand final, remembers Richards typifying Collingwood of that time.

"As a player, Ron was small, but showed that courage which was typical of the Richards and Pannam families. If you look at the blokes from the '53 team, they were called the Magpie midgets, but they were incredibly tough and always fought to win," Weideman said.

"It was a great thrill to play in that side, and if you look at Lou (Richards), Des Healey, Bob Rose, Thorold Merrett and all those great, great players to play for Collingwood that year, Ron was one of them.

"He was, above all else, a fine man."

A product of the Collingwood area and graduate of Collingwood Tech, Richards played 143 matches in black and white between 1947-1956. He began coaching the thirds, or under 19s, in 1964 and seconds in 1972. He was Leigh Matthews' match committee chairman when the Magpies broke their 32 year premiership drought in 1990.

Across the decades, Richards was involved in more than 1300 matches involving the various Collingwood teams. He has been cited as a formative influence as a coach and mentor by the likes of Peter Daicos, Peter Moore and Bill Picken and became, in 1990, the first Collingwood recipient of the Jack Titus award for services to football.

Richards is survived by his wife Glenys, his brother Lou, children Shar, Dean, Kane and Cameron and grandchildren Andrew, Annabel, Sam, Abby, Georgia and Edward.

Ron Richards' funeral will be held on Wednesday 25 September at 1pm at St John's Anglican Church in Toorak.