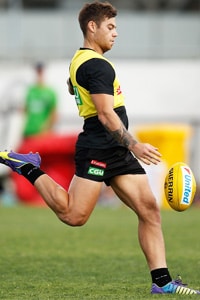 During the off-season, Collingwood made a new addition to its coaching staff when it appointed Jamie Cassidy-McNamara to the role of Skill Acquisition Coordinator.

Cassidy-McNamara, 23, works with the club's assistant coaches on the training track to help improve the players' efficiency by foot and by hand.

He caught up with collingwoodfc.com.au to discuss his first three months in the role and how he is looking to improve the team's skills in season 2015.

Luke Mason: What is the scope of your role as Collingwood's Skill Acquisition Coordinator?
Jamie Cassidy-McNamara: I help organise main training with Nathan Buckley and Robert Harvey (Senior Assistant Coach), and I'm also involved with the football analysis guys.

I look at skills from a decision-making point of view, so along with Bucks and Harves, we've created drills that are going to test the players' ability to make correct decisions under match-like conditions.

Practice needs to resemble match conditions or exceed them as best we can, so we work with our performance analysis team to come up with and analyse drills from an individual and team perspective to make sure they're really match specific, and then from that process we can find out which players need either to work on their decision making or to come in and work on the technical aspects of their skills.

For the technical side of things, we work with 'Fly' (Development Manager Craig McRae) who has also done a bit of work with the players.

PHOTOS: Go behind the scenes during Wednesday's main training session.

LM: What sort of feedback have you received from the players so far?
JCM: All the feedback from the players has been really positive and we're seeing definite improvement statistically, albeit on track, in their efficiency.

When we see that improvement, we make training harder to make sure it doesn't become too easy.

It's the same process as you would have in the gym where you keep trying to improve by making things more challenging.

LM: Can you explain your path to your role at Collingwood?
JCM: I finished my degree and did my honours degree with Professor Damian Farrow at Victoria University. I did my honours in skill acquisition and towards the end of my honours, Damian was approached by Collingwood about what skill acquisition encompasses, and he recommended me.

Last year I did a cadetship with the Western Bulldogs. It was only a couple of days per week in performance analysis, which is what our football analysis guys do here.

It was very handy because skill acquisition uses a lot of the work the performance analysis team finds, so we work quite closely with those guys.

LM: How do you tailor training drills to ensure you are teaching the players from a skill acquisition point of view?
JCM: We try to make sure the stimulus in training for a skill execution, whether it be kicking or handballing, is the same in training as it would be in a game. For example, that's removing cones and witches hats and moving away from how training's traditionally been done with lane work. I believe the Hawks were one of the first clubs first to employ a skill acquisition coach (David Rath).

It's more match simulations and scenario based training. A thing we work on is repetition without repetition. To explain that, you would assume most people get better by repeating a technical skill, but we want to make sure they're getting repetition in a dynamic environment where they are adapting and learning new ways.

Science says that the best (or elite) players in the long term are the ones who can make the best decisions and who are the most adaptable. It's not necessarily the perfect technique but it's the ones who can find a way to make time and space for themselves to make it work.

Scott Pendlebury would be a prime example of that, so scientifically he's getting positive transfer from his basketball experience.

LM: What trends are you seeing in football, and the way players' skills are improving?
JCM: I think physiology, most clubs are pushing towards the end limit of how well you can train them from a physical point of view, so it's decision making and adaptability components that can win through at the end – which teams can win the most positions – that will win most games.

The best teams are so adaptable at whatever the opposition throws at them. Their skills under pressure and their ability to buffer pressure and adapt to a situation is what we're trying to get our players towards.

Dane Swan is a good example of someone who has a less than conventional kicking technique but just finds a way to get the job done.