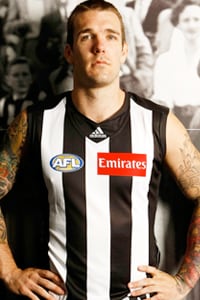 Just 36 things?

Really?

Well, we didn't want to go overboard...

...so here they are.

#swansong.
1. Kicking the sealer in the 2007 Semi-Final
Swan was the man who, as Channel Seven's Dennis Cometti put it, 'put the icing on a Black and White cake' when he ran into a vacant goal square to clinch Collingwood's win over West Coast in an incredible extra time final at Subiaco Oval. It was Swan's 38th possession of the night.

2. Winning 48 possessions against Port Adelaide
A career that lacked fanfare in its early days was changed forever when Swan gathered a then personal record of 48 disposals against the Power in a twilight fixture at the MCG in round 10, 2009.

3. Winning the ANZAC Day Medal in 2012
Few players have dominated a game like Dane Swan on ANZAC Day 2012. He amassed 42 disposals, kicked three goals, took a screamer in the third quarter and appeared almost untaggable in heavy conditions.

4. Kicking his first goal
The little-known No. 36 made his presence felt in Collingwood's first meeting with the Brisbane Lions since the 2003 Grand Final when he opened the night with a goal from tight on the boundary line at the Gabba in round three, 2004.

5. Spiderman almost wins the Brownlow
It's now a matter of footy folklore that Swan was watching the 2007 Brownlow Medal count on Alan Didak's couch while dressed up in a Spiderman costume alongside Didak and Guy Richards. What was more bizarre was that Swan hadn't even been invited to the count but was in contention to be crowned the league's fairest-and-best player when he had polled 16 votes by round 14.

6. Laying a goal saving tackle against Essendon
Swan's closing speed is legendary, as Bomber Brent Stanton found out in round 23, 2012, when he was mown down from behind.

7. Representing Australia
The AFL recognised Swan's incredible form when he was named to tour Ireland with the Australian International Rules squad in October 2010. Only weeks after tasting premiership success, Swan's purple patch continued overseas as he was named the Jim Stynes Medallist as Australia's best player.

8. This photo



Where there's one there's two, and where there's two, there's usually three. Swan, Alan Didak and Ben Johnson were joined at the hip for most of the years between 2002 and 2013.

9. Earning his first Brownlow votes
He now has an incredible 164 to his name, so it's hard to remember that it took Swan until his 31st game to notch his first Brownlow Medal vote. For the record, it was against Adelaide in round one, 2006, and came off the back of 34 possessions and 15 marks.

10. Kicking five against the Giants
Always a threat in front of goal, Swan took things to the next level when the Magpies met Greater Western Sydney for the first time in round 18, 2012. He kicked a career-high five goals and two behinds from his 37 possessions to put the exclamation mark on Collingwood's 120-point win.

11. Showing off his new tattoos
Supporters got their first glimpse of Swan's sleeve tattoo on his right arm when he took part in Collingwood's charge to the NAB Cup Grand Final of 2009. It came at the same time that the club unveiled new recruit Dayne Beams, who also sported what has become a trademark sleeve.

12. Leaving James Hird stranded
Swan was still flying under the radar when Collingwood met Essendon in round 19, 2006, and it showed when no one saw him creep up on Bomber legend James Hird and leave him flatfooted as he gathered the bouncing ball, found space and snapped truly to level the scores midway through the final term.

13. Flooring the Saints in 2010
With 14 minutes still to play in the third quarter of the 2010 Grand Final Replay, Swan all but sealed the deal when he roved a pack and motored into an open goal to kick his first – and only – major of that memorable afternoon.

14. Making a fashion statement at the Brownlow
It was certainly a fashion statement, but not one Swan would have enjoyed wearing. He fell only two votes shy of tying with Gary Ablett for the 2013 Brownlow Medal while wearing a navy blue cast on his wrist after undergoing post-season surgery.

15. A touch of the fumbles
Poor Swan, playing in just his fifth senior game, got in a goal-line tangle with Anthony Rocca during the third quarter of Collingwood's loss to Fremantle at Telstra Dome in round four, 2004. Rocca marked on the line and played on, only to bump into Swan and miss the chance to close the gap on the Dockers.

16. Are you calling me fat?
Some critics believed Swan was carrying a few too many kilos into the 2012 season. He made a mockery of such suggestions when he roved a boundary throw in and left his opponents stranded as he stormed into goal during the third quarter of the ANZAC Day win over Essendon. He topped it off with a subtle rub of his tummy.

17. When it mattered most
Dane Swan has been called many things, but a front-runner he is not. He laid a career-high 11 tackles in Collingwood's 2010 premiership victory over St Kilda in the Grand Final Replay.

18. Winning his first Copeland Trophy
Swan joined the pantheon of Magpie greats when he claimed his first E.W. Copeland Trophy in 2008. It capped off his remarkable rise from the bottom of the club's list to the very top, and followed on from his sixth placing in 2006 and fourth in 2007.

19. I'll stay on Schoolies, thanks
During an interview with The Club in 2013, Swan revealed that he opted to finish his Schoolies celebrations on the Gold Coast instead of boarding the first plane back home to Melbourne after he was drafted to Victoria Park at the end of 2001.

20. One short of a half century
Hawthorn smashed Collingwood by 47 points on a sunny winter afternoon at the MCG in round 17, 2012, but that didn't stop Swan from amassing a career-high 49 possessions and 13 clearances. It still wasn't enough for him to receive the three Brownlow votes – they went to Hawthorn's Sam Mitchell.

21. Sarcasm in the face of defeat
Few players can raise humour after a 96-point loss, but Swan did just that when reporters thrust the microphones in his face in the morning after Collingwood's heavy defeat at the hands of the Cats in round 24, 2011. Was Swan disappointed with the result? "I'd rather have lost by 100," Swan replied, dripping with sarcasm.

22. Sending one through from 70m out
At a critical juncture of a clash with the old enemy in 2010, Swan brought Carlton recruit Brock McLean to ground in the centre circle and was rewarded with a free kick. He played on immediately and kicked long from deep inside the centre circle. The ball carried deep inside the 50 metre arc, cleared the back and rolled through for a goal.

23. Serving notice against Geelong
Swan's bright start to 2006 went to the next level when he earned three Brownlow votes for his 26 possessions and four goals in a 102-point belting of the Cats in round eight, 2006.

24. Creating history
It makes sense that the man who wins record amounts of possessions broke new ground when he won the 2011 Brownlow Medal with a record 34 votes to finish four clear of Sam Mitchell. It was the ultimate way to cap off his ascension to football stardom.

25. An inconspicuous debut
With eight possessions (three kicks and five handballs) and a tackle, few would have believed Swan was destined for greatness when he debuted against the Western Bulldogs at Telstra Dome in round 13, 2003. Then again, he was afforded only 43 per cent game time.

26. On top of his game
Swan has played few more complete games than his 39-possession, three-goal effort against the Dogs in the 2010 Qualifying Final. He was simply unstoppable and was the key factor in his side's 62-point win.

27. A lone hand
Many football observers believe Swan would be capable of kicking 50 or more goals in a season if he was to spend a year stationed in attack. That theory was given plenty of credence when he kicked three goals and three behinds at full forward during Collingwood's loss to Port Adelaide in the 2013 Elimination Final. Although the Magpies went down by 24-points, it wasn't due to a lack of effort from the No. 36.

28. Ingenuity personified
Swan kicked one of the more creative goals of the year against the Lions in round 10, 2013, when he threw his leg out at a loose ball in the goal square, putting just enough force on the kick for it to trickle onto and over the goal line despite a desperate lunge from Brisbane's Jed Adcock.

29. The ultimate team honour
Few awards compete with winning a best-and-fairest in a premiership team. Swan was bestowed with that honour when the Magpies took all before them in 2010. He received his E.W. Copeland Trophy on 6 December.

30. Paving the way for a mate
Alan Didak endured a difficult 2013 but made it back into the senior team in time for September. It was fitting that it was Swan who set up his old mate for a goal in his comeback match against West Coast in round 22. Swan marked a Paul Seedsman kick just 35 metres from goal. Instead of taking his set shot, Swan handballed to Didak who ran alongside to collect and motor into an open goal, sparking the Collingwood faithful into one of its loudest roars of the year.

31. "Buuuuuursting through Swanny!"
Bruce McAvaney's call of Swan's barnstorming goal against Essendon on ANZAC Day 2014 was, dare we say it, special. So, too, was Swan's performance. He kicked four goals from 26 disposals and won his second ANZAC Day Medal. As ever, he was the difference on one of the biggest days of the football year.

32. A putrid year
Swan's honesty is endearing. Just like the time he told reporters his 2014 season had been 'putrid'. He made up for it with a stellar 2015 season, and at the time of his foot injury was still well and truly at the top of his game.

33. "I'm confoosed"
Even when Swanny doesn't quite get it, he's still one step ahead of the game. Confused? Watch this from an edition of the Black & White Show in 2015.

34. The cockroach
"I'm like a cockroach. They can't kill me."

Somehow, the youngest player on the Collingwood list in 2002 was the oldest member of the group in 2016.

35. Life's tweet
Celebrities and social media haven't always mixed well. But few use Twitter as well as Swan, who boasts 138,000 followers. Collingwood, on the other hand, is on the verge of cracking the 100,000 mark. He's larger than life.

36. He's Dane Swan
There's only one of him. And we love him for it.