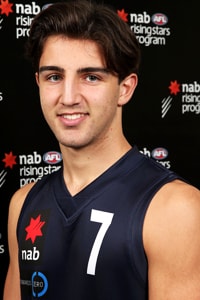 Selection No. 57 – Josh Daicos

Position: Small forward
Height: 178cm
Weight: 69kg
Born: 26/11/1998
Recruited from: Oakleigh U18

Profile

The son of Collingwood champion Peter Daicos, Josh's talent is untapped but he could be one of the best small forwards in the pool. Daicos didn't take long to show his talents as a smart and crafty small forward, bursting onto the scene in the TAC Cup practice matches early in the year. After being held back from elite under 18 programs until this season, Daicos had relatively little exposure but has come on with every appearance. A broken hand threatened to interrupt his championships, but he returned to play three games for Vic Metro and show his class and creativity around goal.

What they say

"Obviously he has had just one year within our program. I reckon he peaked around championships time and we were probably a little disappointed with the end of his season. He has serious skill, a very good footy brain, and we would have liked to have had him in the program a bit longer. He doesn't look that quick out on the ground but his GPS data stacks up quite well. He lacks a yard of speed but his footy nous alleviates that. The sidestep he has learned from Dad, and there are a lot of similarities with Peter – great goal sense and the footy brain with the way he sees the game" – Craig Notman (Oakleigh Chargers talent manager), Inside Football, November 2016.

"While he has played predominantly as a small forward this season - he bases his game on Port Adelaide livewire forward Chad Wingard - Daicos is determined to improve his fitness base in order to spend more time in the midfield. One of the most unique aspects to Daicos' game is his goal kicking technique. He barely generates any momentum during his run-up, opting to slowly step towards his target. But then as he kicks the ball on his preferred right boot, his leg swings dramatically across the left side of his body, rather than following the straight trajectory of the footy." – Ben Waterworth, Fox Footy, November 2016.

"Callum and Josh Daicos spent a week with us during the pre-season and it great to have them down. They are fantastic young men. They really thrived in the environment here. Just having them around was first class and both them threw themselves into it flat out. Nothing was too hard. Even when they fell short, they dusted themselves off," – Nathan Buckley, 5 April 2016.

" Josh has got class and a nice lateral first step but the real highlight is his beautiful kicking skills. He entered the TAC Cup this year after playing at Camberwell Grammar and early in the year he showed he had some seriously special qualities" – Anton Grabic (Vic Metro coach), Herald Sun, 15 June 2016.

"He's a very skilful player, he gets a lot of the ball, he works hard and always makes good decisions," – Callum Brown (contemporary and son of Gavin Brown), Herald Sun, 7 October 2016.