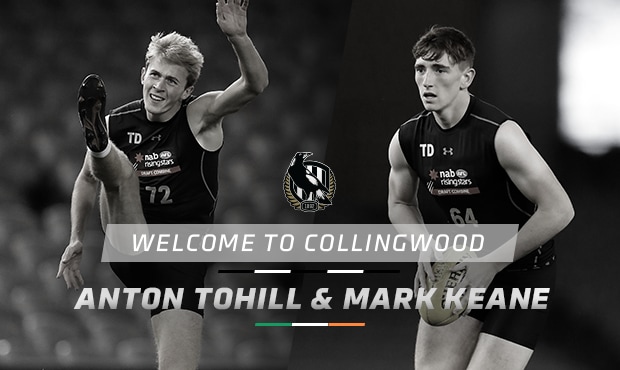 Collingwood's historically productive search for alternative athletes continues, with the signing of two outstanding Irish key position prospects in Mark Keane and Anton Tohill.
Keane, at 194cm, and Tohill, at 198cm, recently returned excellent AFL Draft Combine results off the back of training for much of the last 12 months under the tutelage of fellow Irishman and former Collingwood player, Marty Clarke.
Clarke, Collingwood's first international recruit who has since been followed by the likes of American Mason Cox, played 73 games for Collingwood in two stints with the club, from 2007-09 and 2012-14.
Keane and Tohill attended an international AFL Academy in the USA last January and tested exceptionally well at a similar combine in Europe.
At the recent AFL Draft Combine in Melbourne, Keane finished second in the goal kicking test won by Collingwood Next Generation Academy prospect, Isaac Quaynor. Tohill, at the same event, finished 12thin the overall kick testing. Both recorded excellent speed and agility results.
Keane hails from Cork and Tohill from Derry in Northern Ireland. Both are 18 years old.
The Tohill name will be familiar to some. Anton is the son of former Gaelic and International Rules star Anthony Tohill who spent time with the Melbourne Football Club in the 1990s.
Collingwood national recruiting manager, Derek Hine, said both players stand to become athletic key position players in the medium to long term.
"Mark and Anton will really add to our developing key position depth," Hine said.
"They are different to each other in the manner in which they play. Anton has the makings of a tall utility who will be capable at both ends of the ground, with the potential to play minutes in the ruck.
"Mark is very strong overhead and has natural game sense. We can see him playing as a key forward or key defender."
Keane and Tohill will join the club next month, ahead of the commencement of pre-season training for the 1-4 year players.