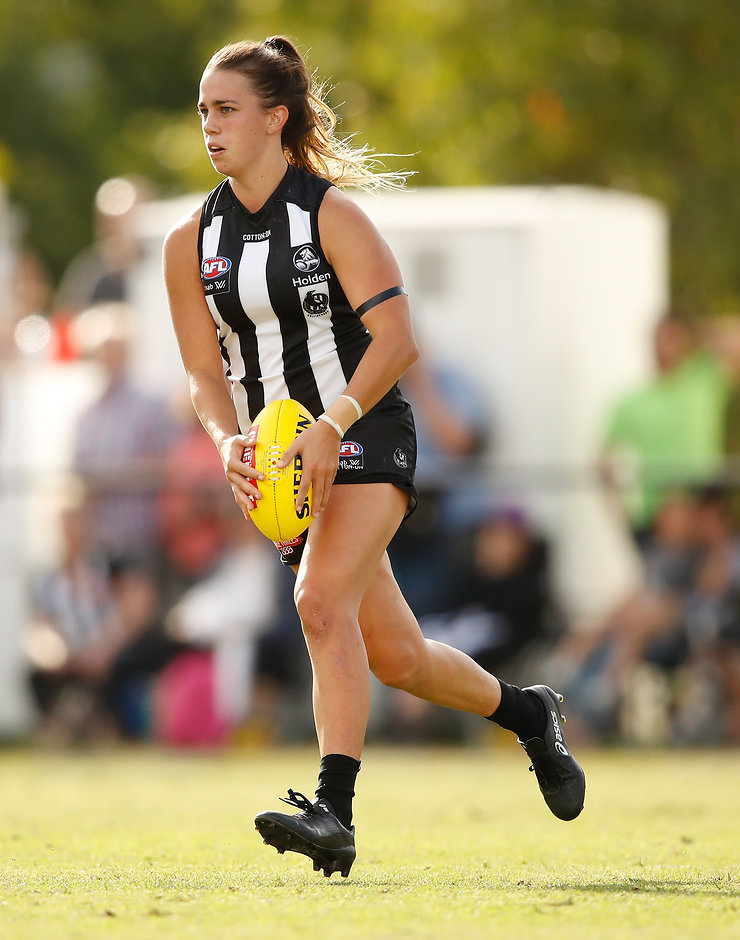 What a debut season it was for Collingwood young gun Chloe Molloy, being awarded the 2018 NAB Rising Star and Collingwood's best and fairest.
But her footballing world was turned upside down after she strained several ligaments in her left foot during Collingwood's VFLW preliminary final and it emerged that the injury would sideline her for the entire 2019 AFLW season.
"It was really hard to swallow at the start coming off such a good year. I was on top of the world, but I came down to pretty much rock bottom," Molloy told collingwoodfc.com.au.
"Footy was taken from me with the injury I sustained."
This is Molloy's first serious sporting injury and she's confessed her struggle to overcome both the physical and mental setbacks that have impacted her day-to-day life.
"I wasn't able to work, wasn't able to drive so my independence was taken away from me."
The 20-year-old openly admits she's currently seeking the support of a sports psychologist who has recognised her injury as one of the hardest to recover from.
"If you have a millimetre tear you have to have surgery. I had a 3.2 millimetre tear so surgery was definitely on the list for me.
"I was in a cast for two weeks post surgery. I have 13 screws and three plates, couldn't weight bear for a month and then I went into a moon boot, so Play Station has been my best mate," she laughed.
Collingwood's AFLW coach, Wayne Siekman, is disappointed Molloy won't be stepping onto the field in the black and white this season but recognises she'll use this opportunity to further improve in other ways.
"Chloe will still get to develop over the next four and a half months with her coaching position and we are still helping her develop and grow her footy IQ which she'll benefit from," Siekman said.
"This leaves us with the opportunity to find the next Chloe Molloy."
Having recently taken her first steps out of the moonboot, Molloy admits some relief, even letting out a few tears.
"Finally having the independence to walk made me really emotional and I'm just starting now to progress out of the boot."
Although she is disappointed she won't be taking the field this season, Molloy is honoured to support her team in a new role, joining Collingwood's coaching panel in an opposition analysis role.
"The role will involve me looking at a lot of footage, cutting it up and using the 5-point system so I'll be watching a lot of footy which will make up for the footy that I'm missing," she smiled.
Molloy says that her key goal this year is to support her teammates in any way possible as likewise they'll support her through her recovery.
"Who I am I really need to be surrounded by people who are going to lift me up," she said.
"I want to be out there giving handballs to the girls, ensuring that my voice is being heard because I do think that I have a lot of knowledge to pass on.
"I've taken the young ones under my wing as last season I went through the exact same thing and I know it is hard."
Having been one of the newbies last year, she admits she's brought it upon herself to mentor the young recruits.
"We came in for induction, looked up into the Altitude room and the new recruits were all up there doing a session. That's something we haven't had in the first two years.
"The newbies have made a really good first impression and there's just a really good vibe this year."