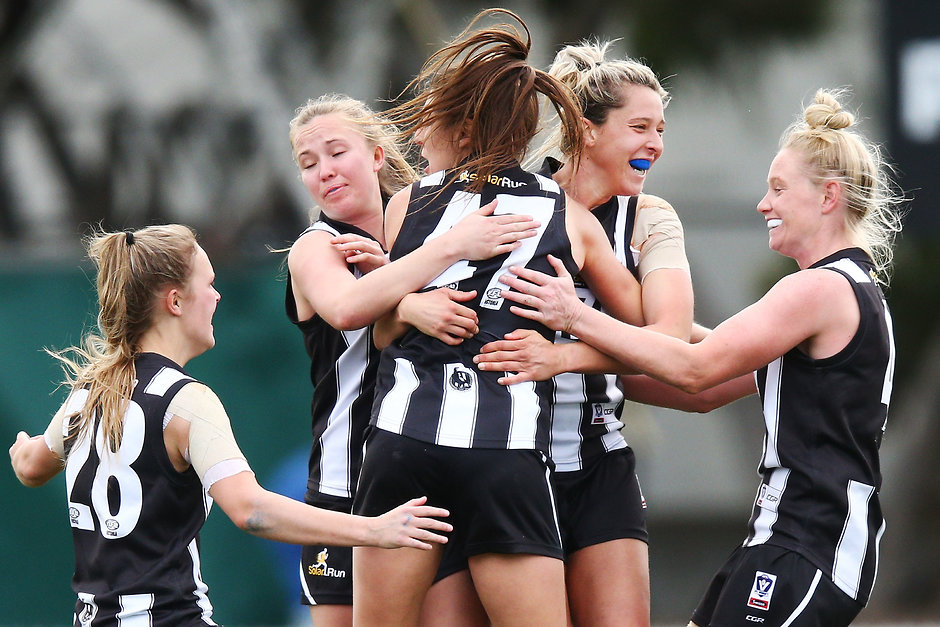 Collingwood will play home games at Victoria Park and in the Gippsland city of Morwell during the 2019 VFLW season.
The Pies will host the Western Bulldogs and Melbourne Uni in Morwell during June and July.
They will also host Greater Western Sydney in an invitational match at Victoria Park in August.
COLLINGWOOD'S 2019 VFLW FIXTURE
Round 1: Sunday, May 5
Southern Saints v Collingwood (RSEA Park) 12pm
Round 2: Saturday, May 18
Collingwood v Hawthorn (Victoria Park) 2pm
Round 3: Saturday, May 25
Geelong v Collingwood (GMHBA Stadium) 11.30am
Round 4: Saturday, June 1
Collingwood v NT Thunder (Victoria Park) 2pm
Round 5: Sunday, June 9
Casey Demons v Collingwood (Casey Fields) 11.30am
Round 6: Saturday, June 15
Darebin Falcons v Collingwood (Preston City Oval) 12pm
Round 7: Saturday, June 22
Collingwood v Western Bulldogs (Morwell Recreation Reserve) 11.30am
Round 8: Bye
Round 9: Saturday, July 6
Essendon v Collingwood (Windy Hill) 12pm
Round 10: Saturday, July 13
Collingwood v Williamstown (Victoria Park) 11am
Round 11: Saturday, July 20
Collingwood v Melbourne Uni (Morwell Recreation Reserve) 2pm
Round 12: Sunday, July 28
Richmond v Collingwood (Swinburne Centre) 11am
Round 13: Sunday, August 4
Collingwood v Carlton (Victoria Park) 11am
Round 14: Bye
** INVITATIONAL MATCH
Sunday, August 11
Collingwood v Greater Western Sydney (Victoria Park) 3pm
Round 15: Saturday, August 17
Collingwood v Essendon (Victoria Park) 12pm
Round 16: Saturday, August 24
Hawthorn v Collingwood (Box Hill City Oval) 11.30am