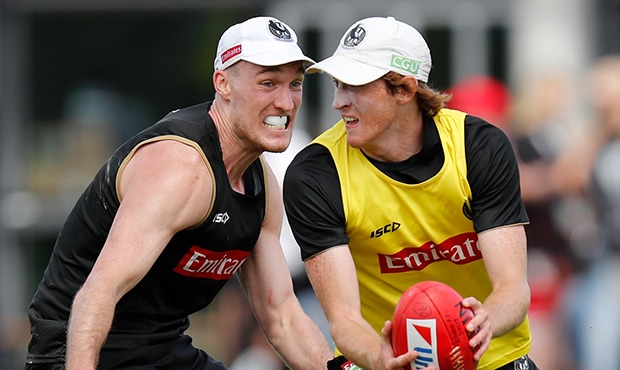 Collingwood youngster Nathan Murphy has set his sights on playing in the Pies' two JLT Community Series matches as he looks to build on his encouraging debut season.
The 19-year-old played two AFL matches in 2018, averaging 11 disposals in his appearances against Port Adelaide and Fremantle in rounds 22 and 23.
Having watched last year's run to the Grand Final from the stands, Murphy is itching for the chance to prove himself at the highest level once more.
"I think it's just (about) getting more confidence in myself," he told collingwoodfc.com.au.
"I guess I've had that year in the system now and I know … where I need to get to, to get back in the side.
"(I want to) really try and put my name up for JLT. I think that's a good way to go about it and just build from there."
Murphy was among the leading performers when Collingwood's AFL squad resumed its pre-season with a two-kilometre time trial at the Holden Centre on Wednesday.
"Time trials are never fun, I guess, but we've got to do it," he said.
"There's a bit of elbowing and stuff at the start as well, which is a bit fun, but it's good to get it over and done with, knowing we don't have (another) one until the end of the year.
"There were some really good performances, which was good - a lot of boys improving from their last one, which was good to see.
"So everyone's come back in good shape, which is good."
View this post on Instagram
Like many of his teammates, Murphy is in great shape after training strongly prior to the Christmas break.
"I guess the last month, when everyone was back, we were really into the footy side of it," he said.
"We were doing a lot of (kilometres), but you didn't really notice it because a lot of it was with footys.
"We were really getting our game plan drilled into us early, so it was really fun to be a part of, fun to come to training, which is the main thing.
"So I've really enjoyed it.
"Everyone's kind of picked up where we left off at the end of last year.
"We know where the standard is at the moment, we know we still can get better as well, so it was really good pre-Chrissie, but we've got to keep building on it."
The Pies meet Fremantle in their opening JLT Community Series match in Joondalup on Monday, March 4.