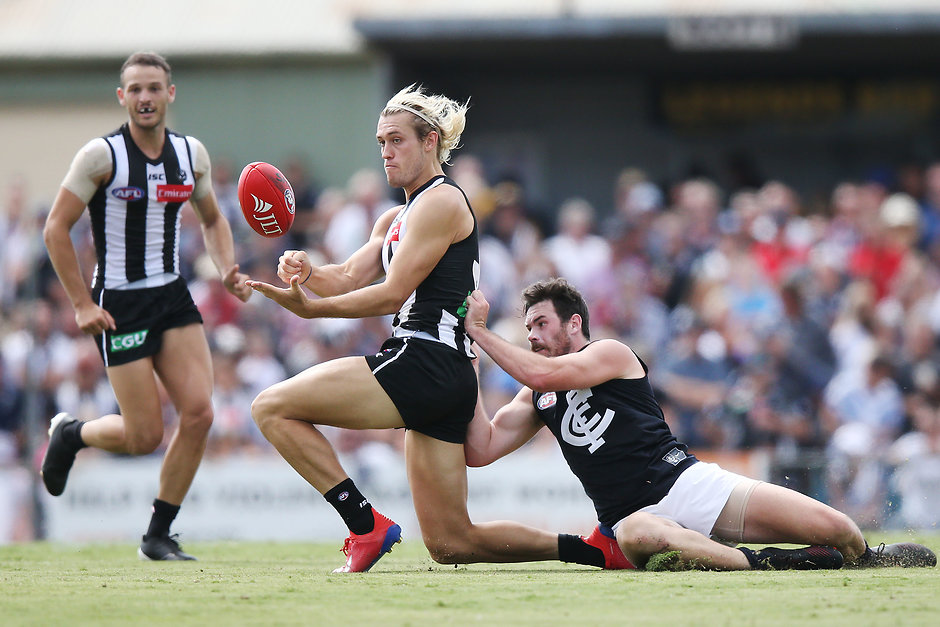 Midfield: The Pies weren't at full strength given Adam Treloar was rested for the first game against Fremantle while Taylor Adams (finger), Brayden Sier and Daniel Wells (foot) were no-shows, but the old firm of Scott Pendlebury, Steele Sidebottom and the returned Dayne Beams proved formidable beneath gun ruckman Brodie Grundy. Given more space at centre bounces the Pies loom as one of the more dangerous midfield units.
Rucks: As usual, Grundy assumed the bulk of the responsibility, using the two games to regain fitness lost while sidelined with a broken toe. He received a breather from swingman Ben Reid in the first game and from tall forward Mason Cox in the second game against Carlton, while ex-Bulldog Jordan Roughead was kept in reserve as he held down a key defensive post.
Back six at the bounce: The inclusion of Darcy Moore proved pivotal because, given his marking ability, anticipation, speed and precise kicking, it enabled the Pies to quickly turn defence into attack. With Roughead also proving capable, Nathan Buckley has a backline that appears well equipped to handle the 6-6-6 change given their competence in one-on-one contests and their willingness to cover for one another.
Forwards at the bounce: The Woods' attack is nightmarishly unpredictable for opponents, with high-flying little man Jamie Elliott making an eye-catching return and being one of several Pies of different dimensions to start out of the goalsquare. Difficult to get a full read on how they will structure up given they were without their two leading goalkickers from last year, Jordan De Goey (foot) and Will Hoskin-Elliott (knee), while both Cox and Jaidyn Stephenson missed a game each.
Kick-ins: Moore assumed the role with relish, often running out of the square to go long or picking off shorter targets.
Other observations: There were teething issues with the Pies being penalised a few times in their series opener for not having a 6-6-6 formation, but they didn't suffer any such lapses in their next outing.