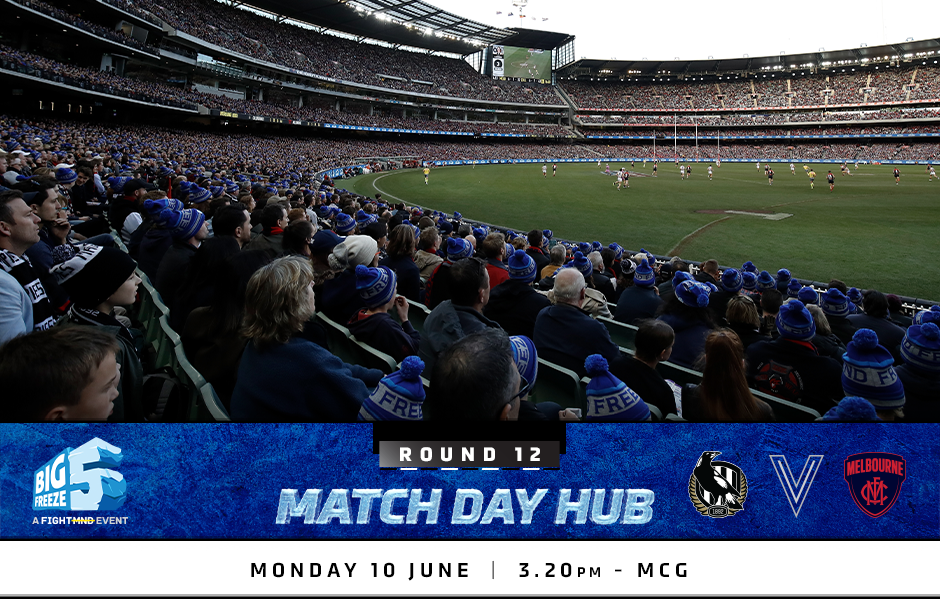 Join us this Queen's Birthday for this years Big Freeze 5 event when Collingwood takes on Melbourne at the 'G.
Collingwood v Melbourne
Date: Monday 10 June
Game time: 3.20pm
Gates Open: 12.30pm
Players run out: 3.06pm
Location: MCG
Community Partner: FightMND: Big Freeze 5 – Donate now
Match Day Partner: Coles are also a partner of FightMND are are donating 10 cents from the sale of each pack of fresh pork sold at supermarkets across the country to raise funds for the disease. Find out more


There's lots happening in the precinct ahead of the game, so we've compiled a list of everything you need the know on the day.

Big Freeze Beanies are now sold out online! There will be a limited amount available for purchase pre-game in the following locations:
- The Holden Centre
- The Collingwood Superstore
- The MCG
- Melbourne Arena

Neale Daniher will be one of the guest speakers at the Early Bird and with capacity at 1,000 at the Glasshouse Event Space, make sure you get there early to avoid missing out.

11.00am – Glasshouse Eatery open for food and beverages
11.30am - Big Freeze 5 edition of the Early Bird starts
Glasshouse Event Space at the Holden Centre

12.00pm – Entertainment to commence at the Early Bird
Hear from special guest speakers such as former Essendon player and Melbourne Football Club Coach, Neale Daniher, FightMND Board Member, Bill Guest, Collingwood President, Eddie McGuire and Collingwood AFL Player, Tyson Goldsack.
Glasshouse Event Space at the Holden Centre
1.10pm - March to the 'G
March to commence over the Melbourne Arena /National Tennis Centre footbridge lead by the Collingwood cheersquad.
Meeting point outside the Glasshouse Eatery at the Holden Centre
2.00pm – Sliders to commence at the MCG
Make sure you're in your seats in time to watch the following A-List'celebrities take the icy plunge sliding into the Big Freeze pool all in the aim of raising critical funds to help find a treatment and cure for MND.
Lauren Jackson
Dane Swan
Nick Riewoldt
Brendan Fevola
Jimmy Bartel
Anna Meares
Bianca Chatfield
Jobe Watson
Chris Judd
Liam Picken
Bob Murphy
Sam Mitchell
Brent Harvey
Cyril Rioli
CGU Barrack Booth
The CGU barrack booth is ready to hear you sing the club song loud and proud!
Come visit the booth between Gate 1 and Gate 2 and sing along to the club song karaoke style, for your chance to be featured on the big screen during first quarter break. Remember the louder the better.
Time: 11am – 3.20pm


Visit the Collingwood Superstore pre-game and check out the 2019 range. Members can redeem their 10% discount on all full price purchases in store and online.
Store hours: 10am – 3.20pm
Shop online


Membership hub and marquee: For all membership related enquiries, come down to our membership hub or marquee and visit the team.
Location: Membership Hub outside Gate 3
From 12pm until the first bounce
Beanie collections:
Collingwood members who purchased a Big Freeze membership can come and collect their beanie from the membership hub or the Early Bird at the Holden Centre.
Cap collections:
Collingwood members who purchased a membership prior to January 31 2019 can come and collect their cap from the following locations.
Location: Membership Hub at Gate 3
General Admission access:
Great Southern Stand: Level 1 – M1-M2, Level 4 - Q1 –Q10, Q11 – Q151/2 ROWS K-DD
Ponsford Stand: Level 4 - Q31 rows Q-MM, Q32 rows N-MM, Q33 rows Q-MM, Q34-Q35 rows U-MM, Q36 rows AA-MM
Olympic Stand: Level 1 – M56 – M57, Level 4 - Q49-Q54 rows S+MM, Q55 rows K-MM
Legends Lounge
Open from 1.30pm
Location: Enter through Gate 1 in the Posnford stand, take escalators to level 2.
Member Dining (Booked out)
Book in for a future Member Dining event
Unleash your Passion in 2019 as an official Collingwood member. Visit membership.collingwoodfc.com.au or call 1300 MAGPIE (62 47 43) and join today.
Follow Collingwood's official social media channels for all the latest news and behind-the-scenes action on game day.

Join the conversation with the official hashtag #AFLPiesDees #BigFreeze5
FACEBOOK: @Collingwood_fc
INSTAGRAM: @Collingwoodfc
TWITTER: @Collingwoodfc

Download the Official Collingwood App for LIVE scores and stats of every game.
iPhone: Download from the App Store
Android: Download from Google Play


Car Parking at Yarra Park:
Car parking spaces in Yarra Park will be very limited and in high demand.
We strongly encourage fans to take public transport, or to park in the CBD if driving to the match.
By public transport:

Click here to plan your trip to the MCG using Melbourne's public transport network.
Please note, rail and road construction projects may impact some public transport services. Visit the PTV website linked above to find out how your journey may be affected.

Transport Disruptions:
There are many pedestrian and cyclist disruptions in the Melbourne Olympic Park Precinct as a result of the works. Please refer to the list below links for specific crossings and footpaths that have been closed and alternative routes available.
Click here to learn about the alternative footpaths and crossings available.
Click here to find out more about the current works in place.

For the latest news on disruptions to transport networks in Melbourne, please click here to visit Victoria's Big Build website.
MCG Footbridge closure:
The MCG Footbridge will be partially closed to allow construction works to take place. There are alternative pathways available to the public. These include the use of William Barak Bridge and Edwin Flack Bridge for pedestrians and low mobility patrons to travel north to south across the precinct. Click here to view the map of how to get around.

At the ground:
Arrive early: Security measures such as wanding and bag checks will have an impact on the time taken to admit patrons to enter the stadium. Please allow extra time and don't leave your arrival until the last minute.
Be patient: Security inspections take time, so please understand it will take a little longer to move people into the stadium.
Limit the number of bags you bring: Each bag will be inspected, so the more you bring the longer it will take.


Thanks to Melbourne Airport Parking, all Collingwood fans can enjoy 5% off* Melbourne Airport parking when you book online at melbourneairport.com.au using promo code PIES2019.
*Discount and promo code is valid for the official AFL 2019 home and away season and the finals series. Excludes Business car park. Minimum 24 hour required stay. Subject to availability. Melbourne Airport parking T&C's apply.